UPDATE: Since this writing, the Florida Supreme Court has done an about-face, deciding the more rigorous Daubert analysis will in fact be the new evidentiary standard in Florida cases, both civil and criminal. This will mean the bar to bring – and prevail – in Florida injury lawsuits is raised. In its May 23, 2019 decision  In re: Amendments to the Florida Evidence Code, No. SC19-107, the court (now with three new governor-appointed justices since the last ruling) held Florida's evidence standard should align with that used by federal courts and most other states. The court previously rejected adoption of Daubert following a 2013 legislative amendment, citing procedural issues and "grave constitutional concerns." In this 5-2 ruling, the court now says those concerns are unfounded.
On October 15, 2018, the Florida Supreme Court, settled the long-running debate about the appropriate admissibility standard for expert opinions thought Florida state courts.  In a case that began with a plaintiff who developed mesothelioma after years of exposure to asbestos, the Florida Supreme Court held that Frye, not Daubert, is the appropriate test.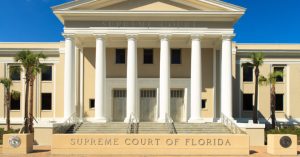 A sharply divided Florida Supreme Court on Monday said a controversial 2013 law about expert-witness testimony was an unconstitutional infringement on the court's authority.