Sarasota Injury Lawyers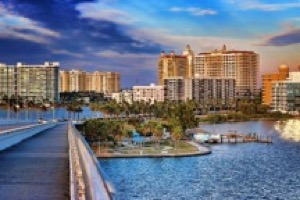 Sarasota is a mid-sized city nestled on the Southwest Florida Gulf Coast between Tampa and Fort Myers. Home to nearly 60,000 residents, it is highly regarded for its beaches, keys, resorts, environmental treasures, museums, universities, and vibrant downtown life.
While most consider Sarasota an excellent place to live, work, and visit, like any community, accidents and injuries can be an unfortunate part of daily life.
Sometimes an accident is just that: A regrettable occurrence for which the injured person truly has no one else to blame. In those cases, people are usually relying on their own health insurance or no-fault personal injury protection (PIP) coverage to offset the financial burden.
However, in some situations where one is hurt because of another's failure to use reasonable care, Florida extends the right to seek monetary damages. The failure to use appropriate caution when one had the legal responsibility to do so is called negligence. Claims for compensation are pursued either in negotiations with insurers and/or by filing a lawsuit in court.
The exact process will vary from case-to-case, but guidance from a civil injury lawyer is generally advisable, especially if the injuries you suffered were serious. Examples of serious injuries may include:
Broken bones.
Internal organ injuries.
Brain injuries.
Knee and joint injuries.
Any injury that impedes your vision, hearing, or other daily living function, especially if it hampers your ability to work/earn a living.
Major scarring.
Sexual assault.
Fatal injuries.
These injuries are often accompanied by diagnoses like depression, anxiety, and post-traumatic stress disorder. You can be compensated for these as well – but only if you can prove physical injuries first.
Cases Our Sarasota Injury Lawyers Handle
At Garvin Injury Law, our Sarasota injury lawyers have successfully handled thousands of South Florida claims over the past three decades. Among these:
Motor vehicle accidents. The Florida Department of Highway Safety and Motor Vehicles (FLHSMV) reports more than 6,400 crashes occur in Sarasota County annually, resulting in nearly 3,700 injuries and nearly 60 deaths. These include 170 bicycle accidents, 200 motorcycle crashes, and 150 pedestrian crashes. According to Smart Growth America, the Sarasota-Bradenton-North Port metropolitan area is considered the 4th most dangerous place in the U.S. for pedestrians. An estimated 1,500 hit-and-run crashes occur here annually too. Our Sarasota car accident lawyers can help walk accident victims through the process of collecting PIP, bodily injury liability from the at-fault driver, uninsured/underinsured motorist (UM/UIM) coverage from your own insurer, and dram shop liability damages from alcohol vendors in drunk driving cases.
Boating accidents. Enjoying the waterways is one of the biggest draws of Sarasota. The Florida Fish & Wildlife Conservation Commission reports Florida leads the nation with nearly 1 million registered vessels. Unfortunately, boating accidents do occasionally happen, especially when operators are distracted, impaired, or inexperienced. These can result in injury and even death. In 2020, a young boy died in a Sarasota boating accident just north of the Ringling Causeway during youth sailing club practice. FWC reports 700+ boating accidents in the state each year. Negligence by boat owners, operators, and service providers can be grounds for seeking damages.
Dog bites. More than 600 Floridians are hospitalized annually due to dog bite injuries. State Farm estimates one bite for every 17 dogs nationally. The Insurance Information Institute reports the average cost per dog injury claim in Florida is about $44,000. Children between the ages of 1 and 9 (boys especially) are at the highest risk. Florida law holds dog owners "strictly liable" for injurious bites. That means victims are not required to prove the owner was negligent or aware the dog was previously aggressive. Basically, dog owners are liable for injuries if the plaintiff can prove the bite occurred while the victim was either in a public place or lawfully on private property.
Premises liability claims. This includes slips, trips, and fails (unintentional falls being the No. 1 cause of traumatic rain injuries, hospitalizations, and deaths in Florida, especially high among those over 65). According to state health officials, an estimated 12,000 people visited emergency departments for fall-related injuries in Sarasota County in a single recent year. Premises liability also encompasses claims for negligent security. These are often third-party liability claims. For example, if a bar fails to address regular reports of crime with adequate security measures, and a patron is hurt, as a result, the bar could be held legally responsible.
Medical malpractice. Doctors, surgeons, physician assistants and nurses have a responsibility to adhere to accepted standard of care for their profession. When they fail to do that, by misdiagnosis or missed diagnosis or errors in surgery or medication mistakes, they can be held legally accountable. Unlike most other Florida personal injury claims, which have a 4-year statute of limitations, medical malpractice claims must be filed within two years. Plaintiffs must also secure expert witness testimony. These cases must only be handled by a skilled Sarasota injury lawyer with proven experience.
Nursing home negligence, neglect, and abuse. South Florida has always had one of the largest elderly populations per capita in the U.S., making the risk of nursing home negligence, neglect, and abuse higher. Residents of nursing homes and assisted living facilities are entitled to certain rights, as outlined in S. 400.022. These include the right to receive adequate and appropriate health care, protective and support services within established and recognized standards. Some evidence that this is not occurring are falls, unexplained injuries, elopement, burns, malnourishment/dehydration, excess medication, and bedsores. Nursing homes and staffers can be held accountable for failure to treat their residents with the appropriate level of care and dignity.
We also handle claims relating to truck accidents, hotel and resort injuries, drowning, construction accidents, product liability, and wrongful death.
If you have suffered these or other injuries in South Florida due to someone else's mistake or carelessness, our Sarasota injury lawyers can help answer your questions during a free initial consultation. Services are provided on a contingency fee basis, meaning we don't collect attorney's fees unless/until we win your case.
Contact The Garvin Injury Law personal injury attorneys in Sarasota today at 239.277.0005 or online for a free case review.