Cape Coral, Florida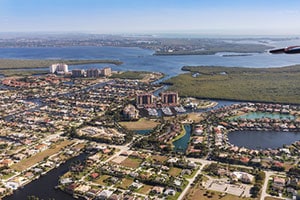 Cape Coral is one of the fastest-growing cities in America. Situated on the prized Gulf Coast of Florida in Lee County, more than 180,000 people call "The Cape" home. Just a brief bridge-length across the Caloosahatchee River from Fort Myers, Cape Coral offers sunshine, scenery and a little slice of affordable paradise. It's popular with retirees and snow birds, as well as young families and professionals, and infrastructure expansion is ongoing.
But this growth has created some risks, of which our Cape Coral personal injury lawyers are aware. The rapid clip of the population hike has made for jam-packed roads, businesses and waterways as city, county, state and private services work to keep up. Common accidental injuries reported to Cape Coral Hospital and Lee Memorial (where most patients will be treated) arise from car crashes (particularly by drunk drivers and distracted drivers), slip-and-falls in stores and restaurants, boating accidents, motorcycle accidents, bicycle accidents, pedestrian accidents and dog bites. In some cases, we find injuries from criminal attacks were the result of inadequate security at nightclubs, apartment and condo complexes or retail stores.
The personal injury attorneys at The Garvin Injury Law can explain that regardless of severity, not all injuries are compensable as civil torts. The basic theory of liability in most cases is negligence. To prove this, we show a defendant owed plaintiff (injured party) a duty to use reasonable care. Further, we show the defendant breached that duty by action or omission. Then we need to establish the injuries resulted from that breach. From there, we must prove the insurer should pay (in pre-trial settlement or verdict) the full sum we are asking (this sum is referred to as your "damages"). It's not unheard of for trials to proceed solely on the issue of damages, which defendant agreeing they were negligent, but refusing to concede to your payment demands, arguing your injuries weren't caused by the incident in question or aren't as serious as you claim.
Serving the Cape Coral area, our personal injury lawyers have more than 40 years of experience in these matters. We're well-acquainted with defense strategies, and we can identify early on the estimated viability and value of your claim, and prepare for anticipated challenge.
Car Accidents
Data from the Florida Department of Highway Safety and Motor Vehicles reveals nearly 2,200 Cape Coral car accidents were reported in a single recent year, resulting in more than 1,400 personal injuries. That's a 120 percent increase in crashes and a 36 percent rise in injuries compared to just five years before.
Boating Accidents
The Florida Fish & Wildlife Conservation Commission (FWC) reports more than 700 reportable Florida boating accidents in a single recent year, with more than 932,000 registered vessels statewide. These include personal water craft, such as Jet Skis and Sea-Doos, which are extremely popular off the shores of Cape Coral, Matlacha and Pine Island, in the Caloosahatchee River, Gulf of Mexico and numerous inlets.
Slip-and-Fall Accidents
Finally, the Florida Department of Health reports unintentional falls – including slip-and-fall accidents – account for 63,000 hospitalizations and nearly 2,500 deaths in Florida every year.
Slip-and-fall injuries are a form of premises liability. Business owners owe the highest duty of care to customers as business invitees financially benefiting the business. Nursing homes, another common site for slip-and-fall accidents in Florida, are responsible to ensure elderly residents prone to falls have proper protection and injuries are promptly treated.
Fighting for You
Our Cape Coral personal injury attorneys use the term "accident" loosely in personal injury cases because while it's true defendants don't usually intend to cause harm, these incidents are almost always preventable when drivers, business owners, boaters and caregivers use reasonable care when performing actions that may foreseeably hurt others. Failure to do so resulting in injury is negligence.
Other types of cases our injury law firm handles are:
Medical Malpractice
Nursing Home Abuse/ Negligence
Motorcycle Accidents
Bicycle Accidents
Truck Accidents
Wrongful Death
As long-time residents of Southwest Florida, our injury lawyers are invested in this community and the well-being of its citizens.
The Garvin Injury Law injury attorneys have established expansive knowledge not only of Florida law, but also of the local courts that oversee litigation here, including the 20th Judicial Circuit and Florida Second District Court of Appeals. We can often work to negotiate fair injury settlements with insurers and defendants far in advance of trial. However, we aren't afraid to take cases to court if it's in a client's best interests. Our injury law firm has a history of proven success.
Contact The Garvin Injury Law personal injury attorneys in Cape Coral today at 239.277.0005 or online for a free case review.