Fort Myers Slip and Fall Lawyers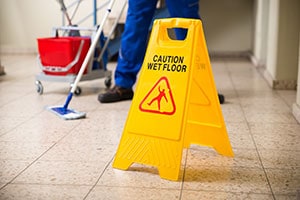 Slip-and-fall accidents account for more than 1 million hospital emergency department visits annually, according to the National Floor Safety Institute. Floors and flooring materials contribute to more than 2 million fall injuries a year, according to the Consumer Product Safety Commission. Spills and other "transient substances" on floors also result in many significant injuries. This can include scenarios like spilled drinks on a dance floor, built-up condensation under a cooler, water from a dripping ceiling, or rainwater trudged in at a store entrance.
The resulting injuries can be serious, including bone fractures, head injuries, hip fractures, back and spinal cord injuries, shoulder injuries, and wrist or ankle sprains. Falls are the leading cause of accidental death for those over the age of 65.
Grounds for a successful Florida slip-and-fall lawsuit will depend on a myriad of factors. At Garvin Injury Law, Fort Myers slip-and-fall attorneys help clients lay the foundation - and the earlier we are involved, the better, as the preservation of valuable evidence may be time-sensitive. Proving liability in slip-and-fall claims has gotten tougher in recent years after state lawmakers raised the proof burden to establish negligence.
Slip-and-fall is a form of premises liability, meaning plaintiffs are seeking to hold the owner or entity in control of a property responsible for injuries suffered by a lawful guest. Business establishments owe the highest duty of care to customers on-site for the commercial benefit of the business.
Proving Fault in Florida Slip-and-Fall Injury
In general, negligence involves proving the defendant had a duty of care to the plaintiff, breached that duty, and the breach resulted in physical harm and compensable injuries. Specifically, in slip-and-fall cases, F.S. 768.055 stipulates that in cases occurring at a business establishment, plaintiffs must prove the defendant had actual or constructive knowledge of the "dangerous condition" (i.e., transient foreign/ slippery substance) and failed to take action to remedy or warn about it.
Actual knowledge can be established by showing the business either created the condition or else was made expressly aware of it. Constructive knowledge is a bit trickier. Using circumstantial evidence, plaintiffs need to show that either:
The dangerous condition existed for a sufficient length of time that it should have been discovered had the business been exercising ordinary care.
The dangerous condition occurred with regularity, and thus the business should have foreseen it.
As you can likely surmise, these are fairly subjective standards, which is why it is so critical to have a Fort Myers injury attorney with a verifiable track record of success in slip-and-fall case settlements and jury verdicts. Particularly those in the decade since the legal standard has changed.
Dangerous Conditions on Property
Conditions that may give rise to a successful slip-and-fall injury claim may be:
Failure to clean up/prevent liquid spills;
Exposed wiring on the floor;
Flooring surfaces/materials that lack adequate traction;
Use of cleaning products that make floors more slippery than one might expect;
Uneven floors;
Inadequate lighting;
Holes or cracks in flooring;
Pulls, tears, or snags in carpeting;
Objects or debris in a walkway.
These mostly occur at business establishments, such as grocery stores, restaurants, bars, hotels, resorts, and theme parks. However, they can also include private property owned by a landlord or homeowner association, as well as publicly-owned property, such as swimming pools and government offices.
Work-related slip-and-falls may also be compensable through Florida's workers' compensation laws, F.S. 440.01-440.60, though claimants will be limited to damages for medical expenses and disability/ lost wages. In those situations, one does not need to prove fault or negligence. Instead, they must prove the fall caused the injury and that the incident occurred in the course and scope of employment, as outlined in F.S. 440.09.
While personal injury claims can technically be filed within four years (though there is no reason to wait that long, nor would we recommend it), workers' compensation claims must start with immediate notice to one's employer, usually (barring special circumstances) within 30 days. Although workers' compensation is the exclusive remedy employees have against an employer per F.S. 440.11(1), third-party liability might be an avenue worth examining if the injury occurred while you were working on property controlled by someone other than your employer. If that is the case, you might be able to pursue BOTH workers' compensation and a personal injury case (the latter allowing the opportunity for damages like pain and suffering and loss of consortium, which are not allowable under workers' compensation).
Common Defenses in Slip-and-Fall Lawsuits
These cases can be difficult to win, so it is important to know the most common defenses - and how your attorney can overcome them.
First is lack of evidence . If you cannot show the property owner had actual or constructive knowledge of the condition, your case will fail. We can fight back on this argument with video surveillance footage of the incident, prior reports of past similar injuries at that location/ within that industry, witness testimony, and medical records. The more evidence we can collect, particularly soon after the incident, the better our chances of winning.
Second is comparative fault . F.S. 768.81 says that while plaintiffs are not barred from collecting damages if they are partially to blame for what happened, their damages can be proportionately reduced. That can be a substantial blow to your case. Assumption of risk is one example of comparative fault. In that instance, the property owner could argue the risk was so open and obvious that the injured person knew it existed and voluntarily took the risk regardless, or otherwise failed to use appropriate caution to prevent injury.
A third defense is lack of dangerous conditions or minimal defect . In these cases, it often comes down to a lack of evidence. You need to be able to prove - through witness statements, photographs, video footage, or other evidence - that the dangerous condition in fact existed and that it was truly a hazard.
Call or email the Garvin Injury Law today for a free consultation and we will evaluate your claim and determine the appropriate course of action. We have offices in Fort Myers, Naples, and Key West. We have been handling slip-and-fall cases in Fort Myers, Florida for over 30 years.