Florida Keys, Florida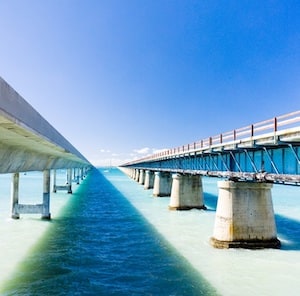 The Florida Keys is a tropical jewel for vacationers from around the globe; Florida is incredibly lucky to possess these "islands in the stream". Monroe County officials estimate tourism accounts for 60 percent of all spending in the Keys, where the motto is, "Come as you are."
The laid-back lifestyle is legend in this string of islands (or Keys actually), situated in the Florida Straits between the Atlantic Ocean and the Gulf of Mexico. These islands (keys) are renowned for their fishing, snorkeling, scuba diving and waterfront resorts. There are also a vast array of unique shops, cultural festivals, restaurants and bars. More than 77,000 people claim Monroe County as their permanent home.
Many scholars have determined that the difference between a "key" and actual "island" is that that a 'key' is much more delicate, fragile, and are often formed on top of coral reefs. "The Keys" has become a term referring to the entire island chain from key largo, through marathon, big pine all the way to key west; these keys make up the conch republic; a "republic" that actually declared it's independence from the U.S. for at least a day or two until the Conch's realized that it probably wasn't going to work out in the long run. Just as The Keys are fragile, driving, biking, or walking on U.S. 1 is an incredibly vulnerable and sometimes dangerous experience, this is made more dangerous by drivers towing boat trailers, delivery trucks making their way down to Key West, and even folks stopping off at the various watering holes along the way who decided to grab an alcoholic beverage.
At The Garvin Injury Law, we recognize that no one goes to the Florida Keys worried much about personal injuries, but the reality is, they do happen. As experienced Florida Keys personal injury lawyers, we know that many claims for damages stem from:
Car accidents;
Bicycle accidents;
Trolley accidents;
Bus/ shuttle accidents;
Pedestrian accidents;
Boating accidents;
Jet Ski accidents;
Motorcycle accidents;
Scooter Accidents;
Scuba Diving Death or Injuries;
Boat Crash and Drowning;
Excursion and Hotel Injuries;
Premises liability/ property owner negligence.
Many of these injuries occur while people are visiting, which can create logistical challenges for those seeking to hold negligent parties accountable and obtain compensation for injuries. Having an experienced, responsive local personal injury lawyer in the Florida Keys who can help you navigate those challenges is essential for a successful outcome.
Injury Lawsuits in the Florida Keys
Many claims for damages can be resolved without filing an injury lawsuit. For example, claims for compensation from a car accident that isn't serious can often be resolved with no-fault personal injury protection (PIP) benefits, pursuant to F.S. 627.736. However, that only allows for up to $10,000 in compensation for medical bills and lost wages. If your injuries are more serious, you will need to file a claim with the at-fault party's insurer and/ or with your own uninsured/ underinsured (UM/UIM) auto insurance carrier.
If the insurer refuses to settle for a reasonable amount, especially when the case involves serious injuries or wrongful death, a complaint will be filed in one of the three Monroe County courthouses located in the 16th Judicial Circuit:
Freeman Justice Center in Key West
Marathon Courthouse in Marathon
Plantation Key Courthouse in Tavernier
Most civil injury cases will settle prior to trial, with the help of a personal injury attorney in the Florida Keys who continues aggressive negotiations on your behalf. However, our legal team of trial lawyers will not hesitate to take a claim to trial or an appeal before the Third District Court of Appeals, if that is what is in the client's best interests.
Contact the Florida Keys personal injury attorneys at the Garvin Injury Law by calling 305.791.6555.