How Do I Negotiate With an Insurer After Fort Myers Property Damage?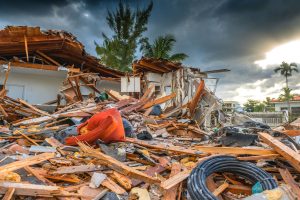 Many in our Southwest Florida community who sustained Fort Myers property damage during Hurricane Ian are wondering where to even begin when it comes to filing insurance claims. Roofs were blown off. Lanais are no more. Vehicles were flooded. Homes were flooded if not entirely swept away.
Industry analysts are estimating this may have been the costliest storm in Florida's history – which is saying something. Early insurance industry estimates of the damage are falling roughly around $53 billion. Some are already saying the final number could be higher.
As Fort Myers civil trial attorneys offering help with Florida business interruption insurance claims and bad faith insurance actions, we can offer some insight on how to get the process started. Good property damage attorneys can help you fight back when insurance companies pinch pennies, lowball your legitimate claims, and try to deny you the relief you're owed according to the terms of your policy.
Property damage insurance companies in Florida are notorious for downplaying the extent of the damage, looking for any possible loophole to deny coverage. As you go through the process of negotiating for coverage, it's important to understand how the process works – and when you may want to seek intervention with a South Florida property damage lawyer.
The Process for Fort Myers Property Damage Insurance Claims
As you wade into negotiating a Fort Myers property damage insurance claim, it's important to understand how the claims process works.
In many cases the following process takes place:
You submit the claim. The insured files a property damage claim with the insurer, whether that's the homeowners' insurance company or commercial property insurer. Most claims have a certain window of time in which the claim must be submitted. Understandably, some households have just had their power restored. Their phones may have been damaged. They may no longer be living at home. Whatever your circumstance, you still want to reach out to your insurer as soon as possible so that you don't miss the window of opportunity to file a claim.
The insurance claim adjuster will be dispatched. Although the damage caused by Hurricane Ian has been covered extensively by the news media and local authorities, property insurance companies are still going to want to send adjusters to see and document it for themselves. Insurance adjusters are responsible for determining the extent of the damage and the cause/liability. If you disagree with the adjuster's assessment, the burden of proof is going to be on you to dispute those findings.
The insurance company makes an initial offer. Once the adjuster conducts their review and files a report to their employer, the insurance company will make an initial offer. The value should reflect the extent of the damage, whether you share any liability, and what they are obligated to pay according to the terms of the policy.
Start negotiations. If you and/or your property damage attorney believe the insurance company's initial offer didn't accurately reflect the scope of damage or what they should pay, you can respond with a counteroffer, negotiating for a better offer. To do so successfully, though, you need ample evidence. You're likely to have more success if you're working with an experienced property damage attorney.
A settlement is reached – or you pursue a bad-faith insurance claim. If the insurance company is responsive and fair in its negotiations (which is always the hope), the claim can be settled, you sign an agreement, they pay the claim, and you get started on repairing, rebuilding, replacing, etc. However, if the company refuses to act in good faith, your attorney may advise you to file a bad-faith insurance claim. Examples of bad faith insurance are refusing to pay valid claims without a reasonable basis, issuing lowball settlements, ignoring insured correspondence on a valid claim, not completing a prompt, proper, and thorough investigation, and burdening claimants with unnecessary requirements and document requests.
Attorneys Fees – Under Florida Law, an insurance company is required to pay attorneys fees to a named policyholder who prevails or wins in a lawsuit against the insurance carrier.
Principles to Bear in Mind During Property Damage Negotiations
When you work with a property damage attorney, you have the benefit of their knowledge of the law, experience dealing with insurers, and skill in preparing a solid argument to fight for your best interests. If you have a significant claim and are feeling (understandably) overwhelmed, it may be wise to reach out for legal help at the outset.
If you're committed to going it alone, here are some basic tips to keep in mind:
Carefully review your insurance policy. Property insurance policies are long and detailed and may contain lots of legal terminologies you aren't sure how to interpret. The insurance company and adjuster know your policy inside out. You should too. (Or your lawyer should.) It's what is going to allow you to determine if the insurer's initial offer was fair and, if not, what provisions can you point to in support of more.
Be honest. Avoid exaggerating your claim. Lots of people have had major, serious property damage. You don't need to downplay that – in fact, you shouldn't. But stick to the truth that is to the best of your knowledge.
Know what your rights are. Insurers know that most of their customers don't understand their rights under the law or according to the policy. In fact, they're counting on it. It's a tool for them. Policyholders who know their rights – or have an attorney representing them who does – they're much less likely to try to significantly undercut your claim.
Document all your interactions. Insurance negotiations can take weeks, if not months – especially if there's been a major natural disaster. Keep written and electronic records of each time you've spoken to your insurance company, who was on the line, what day/time it was, and what was said by them and by you. You can also record those conversations, but you do need to let the insurance representative know this at the outset of the call.
Be respectful. Insurance negotiations – on top of everything else you're coping with – can be very anxiety-inducing and frustrating. But if you're rude or loud or lose your cool, it's almost never going to help and it may actually stall your negotiations. You don't have to be happy about the way things are going, but maintaining a basic decorum of courtesy can often go a long way. If you feel like you don't have the emotional bandwidth to effectively deal with the insurer, it may be time to seek help from an attorney who will take the reins on that front.
If you need assistance with your Fort Myers property damage claim, business interruption insurance claim, or bad faith insurance claim, our dedicated legal team can help.
If you are injured or have suffered storm damage in Fort Myers, Port Charlotte, Sanibel, Fort Myers Beach, Cape Coral, Naples, or Key West, contact Garvin Injury Law at 800.977.7017 for a free consultation.
Additional Resources:
Insured Damages From Hurricane Ian $31-$53B: CoreLogic, Oct. 10, 2022, Insurance Journal
More Blog Entries:
Fort Myers Injury Lawyer Tips for Talking to Insurance Adjusters, Sept. 21, 2022, Fort Myers Property Damage Lawyer Blog