Key West Personal Injury Lawyer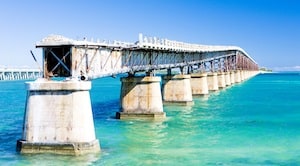 Key West is the most recognized island in the chain of the Florida Keys. Just 90 miles north of Cuba, it's one of the world's most desirable havens for vacationers, artists and long-time residents, thanks to its stunning natural beauty and laid-back lifestyle.
Boating, trolley tours, cruises, festivals, bicycling and resorts are popular here. At last U.S. Census count, Key West was home to almost 27,000 people, while the Key West Chamber reports nearly 2.7 million visitors annually – comprising more than half of the total 4.4 visitors to all the Florida Keys.
In many ways, safety is paramount to the health of the economy here. But as our Key West personal injury attorneys are aware, negligence by hotel owners, boat operators, drivers, restaurant owners and event organizers has resulted in a fair share of injuries on the island.
Those who have been injured as the result of someone else's negligence (failure to use reasonable care) may have grounds to seek damages from the at-fault party. The simple fact someone was injured will not in and of itself be enough to collect compensation. As injury lawyers at The Garvin Injury Law know, a successful case rests on the ability to prove:
The defendant/ tortfeasor owed a duty of care to plaintiff/ victim.
The defendant breached that duty of care.
Plaintiff suffered damages as a result of that breach.
This may seem straightforward, but the reality is, many of these cases are more legally complex than they initially appear. Additionally, there may be unique logistical challenges for claims involving plaintiffs who aren't local. Finding the best personal injury lawyer in Key West for your claim is imperative. The types of claims we see most often in Key West involve:
Car Accidents;
Drunk Driving Accidents;
Bicycle Accidents;
Boating Accidents;
Personal Watercraft Accidents;
Premises Liability (Including Inadequate Security and Slip-and-Fall Accidents);
Wrongful Death;
Key West Boating Accidents
The Florida Fish & Wildlife Conservation Commission (FWC) ranks Monroe County (where the Florida Keys are located) as No. 1 in Florida for the most boating accidents. In one recent year, the boating accident rate was 1 accident per 277 registered vessels. Comparatively, the county ranked No. 2 (Miami-Dade) had one boating accidents for every 991 registered vessels. Put another way, the Florida Keys is the site of 15 percent of all reported boating accidents in the state.
Top causes of boating accidents include:
Inattention/ no proper lookout;
Operator inexperience;
Excessive speed;
Careless/ reckless operation;
Boating under the influence.
Defendants in these cases may include the operator, as well as the owner of the boat and any company that arranged for vessel rental.
Key West Premises Liability
Local businesses, including hotels, resorts, stores, bars and restaurants, benefit greatly from the flood of tourists who flock here each year. They also have a responsibility to ensure their property is not unreasonably safe for visitors, that they are vigilant in finding and addressing potential hazards and that visitors are warned of any dangers that aren't open or obvious.
That duty can include making sure spills are promptly cleaned, hotel rooms have proper locks and bars have adequate security. Failure on any of these fronts resulting in injury can be grounds to take legal action against the property owner.
Injury Attorneys With Experience
If you are injured as a result of negligent action or inaction of another, talk to an experienced personal injury attorney in Key West to determine whether you have a viable claim. Civil injury claims under $30,000 are handled by Monroe County judges, while civil lawsuits exceeding $30,000 are heard by Circuit judges within the 16th Judicial Circuit.
Contact the Key West personal injury lawyers at the Garvin Injury Law by calling 305.791.6555.