Englewood, Florida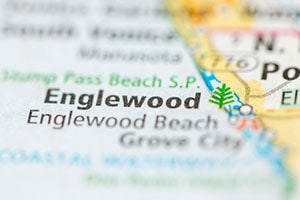 Englewood, Florida is a census-designated place located in both Charlotte and Sarasota counties. It's home to more than 16,000 people, with bodies of water constituting a quarter of its mass. It's popular for its white sand beaches, nature trails, water sports (kayaking, parasailing, fishing, boating, etc.), fine dining and shopping.
The Englewood personal injury lawyers of The Garvin Injury Law have been representing residents and tourists alike in this region for more than 30 years.
The most common injury claims in Englewood involve:
Car accidents;
Slip-and-fall injuries;
Dangerous condition on property/ premises liability;
Motorcycle accidents;
Bicycle accidents;
Boating accidents;
Nursing home negligence/ abuse;
Medical malpractice;
Wrongful death.
The ability of plaintiff (injured person or surviving family member) to collect damages depends on our ability to show the injury was the result of negligence. That is, a defendant (alleged wrongdoer) owed a duty of care to plaintiff, that duty was breached and this caused the accident / incident that resulted in plaintiff's injuries.
Englewood Car Accidents
For example, in the case of an Englewood auto accident, all motorists owe one another a duty of care to use reasonable care in driving. A speeding driver who loses control or a drunk driver who crosses the center line breach that duty. If this was the cause or substantial factor in the crash and the crash was the cause or substantial factor of plaintiff's injuries, plaintiff would be entitled to pursue damages for losses. Those damages might include medical expenses, lost wages and pain and suffering.
The Florida Department of Highway Safety and Motor Vehicles (FDHSMV) reports the Charlotte County Sheriff's Office (which polices Englewood) responded to more than 2,100 car accidents in a single year – resulting in 1,100 injuries. Hundreds of those crashes involved commercial vehicles, and 35 involved bicycles. These cases tend to be more complex because bicycle accidents and truck accidents usually result in more severe injuries. Thus, the guidance of an experienced personal injury lawyer in the Englewood area can be crucial.
Englewood Boating Accidents
Boating in Englewood is popular, and nearly 23,000 vessels are registered in Charlotte County, according to the Florida Fish & Wildlife Conservation Commission (FWC). Charlotte ranks No. 10 out of 88 counties for the highest boating accident rates in the state.
Top causes of boating accidents in Englewood and elsewhere in Florida include:
No proper look-out / inattention;
Operator inexperience;
Excessive speed;
Careless / reckless;
Alcohol use.
Each of these involves negligent behavior for which injured plaintiffs could seek damages.
Englewood Nursing Home Abuse
Englewood has nearly a dozen nursing homes and assisted living facilities. Several are poorly rated as below-average in terms of overall care, health inspections and staffing, according to Medicare.gov's Nursing Home Compare site. Although the actual deficits reports are not available, we do know some of the most common problems when it comes to nursing home care are:
Lack of adequate staffing;
Improper supervision of staff;
Improper screening of staff and/or patients;
Medication errors;
Mistakes in following diet guidelines / restrictions (leading to malnutrition or choking);
Neglect (failure to adequately groom, turn, bathe or otherwise care for patient);
Abuse by staff or other patients that goes unidentified and/or unaddressed.
The decision to place an ailing loved one in a nursing home is not an easy one, and discovering they have not been treated well is a family member's worst nightmare. Our Englewood personal injury attorneys can help guide you through this difficult process in seeking accountability and compensation.
Englewood Wrongful Death Lawsuits
Wrongful death claims can stem from many negligent acts, ranging from motor vehicle accidents to dangerous conditions on someone else's property. Often, our lawyers can identify more than one defendant in these matters.
Florida's Wrongful Death Act, outlined in F.S. 768.196, allows for a right of action when the death of someone is caused by a wrongful act (negligence, default, breach of contract or warranty – including those occurring on navigable waters) which would have entitled the person injured to maintain an action and recover damages had he or she not died. Such actions can be pursued by decedent's representative and/ or dependent survivors.
What's important to understand is that you must act as soon as possible. The statute of limitations in Englewood wrongful death lawsuits (with few exceptions) is two years from the date of death.
Having an experienced injury attorney on your side helps improve your chances of maximum damage recovery.
Contact The Garvin Injury Law personal injury attorneys in Englewood today at 239.277.0005 or online for a free case review.