Everglades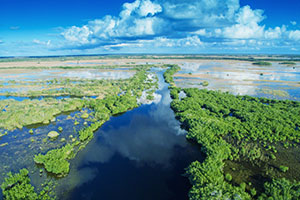 The Florida Everglades is a vast – but environmentally threatened – natural region of tropical wetlands – sawgrass marshes, wet prairies, pinelands, sloughs and bays – in South Florida. It's a unique ecosystem rich with wildlife, spanning areas of numerous counties with some portions designated as a protected national park, others owned by agricultural interests, some secured as sovereign Native American land and others beset by urban development.
It's also a significant draw for tourists, with The National Park Service reporting 1.1 million visitors enjoying the rugged outdoor regions of it in guided-tour swamp buggies, vans, airboats and personal vehicles. There are also casinos and resorts owned by Native American tribes and opportunities to rent all-terrain vehicles.
Unfortunately, opportunity for injury in the Everglades is ample. Obtaining compensation for those injuries, however, is often a complex matter. The Everglades injury lawyers at The Garvin Injury Law are committed to fighting for full and fair compensation for those injured as a result of negligence in the course of:
Swamp buggy accidents/ Air boat accidents
ATV accidents/4-wheeler crashes;
Car accidents (especially on "Alligator Alley"/I-75);
Tour van accidents;
Boat accidents;
Injuries at Everglades casinos and resorts.
In addition to the complications of pursuing claims for injuries on federal land or sovereign Native American land, there is also difficulty preserving evidence that may be critical to your case in a place exposed to the Florida elements and with likely no surveillance cameras. That's why it's imperative if you are injured while visiting or traveling through the Everglades that you seek immediate legal counsel.
Our Everglades injury attorneys will work to help you gather critical evidence, identify a likely cause of the accident and all possible defendants who may be liable for your injuries.
Airboat / Swamp Buggy Accidents in the Everglades
Some of the best ways to experience the Florida Everglades can also be some of the riskiest – if the owner/operator of the equipment or tour fails to adhere to manufacturer or industry standards or simply fails to use reasonable care.
One popular means of Everglades entertainment is a tour on a swamp buggy, a type of airboat. Defined in F.S. § 320.01, a swamp buggy is a motorized, off-road vehicle designed/modified to travel over swampy terrain with huge balloon tires and raised passenger seats. Swamp buggies can navigate (or race) through wetland areas, though they can traverse dry land as well. A swamp buggy can seat up to 20 people, but there are smaller airboat models for "swamp safaris." Many tours are offered by private companies.
Everglades swamp buggy accidents can cause serious injuries to employees and patrons. The Occupational Safety & Health Administration has reported a few incidents in which employees have drowned or been crushed having been pinned under the vehicles. A few years ago, a Collier County man lost part of his arm while trying to free a swamp buggy from the mud in which it had gotten stuck. In 2016, four were killed in an airboat/swamp buggy accident when the vehicle overturned after the operator lost control while traveling at high speeds. Other airboat accidents have involved vehicles striking rocks or stumps and overturning and collisions between two airboats at high speeds.
Employees injured on-the-job in an airboat accident should be entitled to collect workers' compensation benefits, though it may depend on whether the worker was an employee or an independent contractor (designations can be disputed) and whether he/she was acting in the course and scope of employment.
Negligent operators who cause airboats/swamp buggy accidents with paying passengers aboard can be held liable under common law. Owners/operators of Everglades airboat businesses can be held responsible also. Many of these companies have patrons sign liability waivers before heading out. But such contracts do not create a complete shield of immunity.
An Everglades injury lawyer can review signed liability waivers after an airboat accident to determine whether you have a case, against whom and on what grounds.
Everglades ATV Accidents
All-terrain vehicles, better known as ATVs or "quads" or "four-wheelers," are also popular recreation in parts of the Everglades but can be incredibly dangerous when not handled properly. Defined in F.S. § 317.0003, these are four-wheeled, open air vehicles travel on low-pressure tire, straddle-seat (typically for one operator and a passenger) and handlebars – intended for traverse a broad range of landscapes.
Per F.S. § 316.2123, ATVs aren't allowed on highways or most roads in Florida, except on unpaved roads with a speed limit of less than 35 mph – and even then, only during daylight. They should only be operated by licensed drivers – or minors under the direct supervision of a licensed driver. If an owner/operator of an Everglades ATV business violates the law or drives recklessly or simply without reasonable care, he/she can be held liable for that negligence.
If the ATV is part of a businesses' guided tour or rented, it's possible the company may be held liable also.
Tour Van and Bus Charter Injuries
Tour vans and bus charters are another popular Everglades excursion. Federal regulations require these vehicles to have seat belts, prohibit overloading and no tour driver should operate more than 8 hours in a single day.
15-passenger vans, the National Highway Safety Transportation Administration notes, are at higher risk of rollover (due to the raised center of gravity), as well as driver fatigue and inattention. Poor vehicle maintenance and lack of driver experience can also be problematic, especially as operation of these vehicles requires skill and there's little margin of error.
If one an Everglades tour bus or van crashes, at-fault operators as well as motor carriers (through direct or vicarious liability) can be held responsible to pay compensation to the injured. Our injury attorneys will also look carefully at the condition of the vehicle to see whether it was properly maintained and if a manufacturing defect may have played any contributing role in the crash/resulting injuries.
Injuries at National Park or on Tribal Land
A significant draw to the Everglades is Everglades National Park, which belongs to the U.S. government, and Native American casinos and resorts, which exist on sovereign tribal land. Florida law imposes varying standards of care on property owners to ensure the site is kept in safe condition for guests – especially where members of the public are invited there for the financial benefit of the owner.
There are some exceptions, such as the Florida Recreational Use statute that limits landowner liability when they grant public free use of the property for recreation.
While the federal government and Native American tribal nations enjoy certain protections against liability claims, they can still be held accountable under some circumstances.
The U.S. government, for example, enjoys sovereign immunity that would prohibit personal injury lawsuits against it, were it not for the Federal Tort Claims Act waiving that immunity if certain conditions are met. The Federal Tort Claims Act is a highly complex area of law, so if you choose to pursue a claim, be certain the injury lawyer you choose has experience with it – and trying cases in federal, as opposed to Florida, courts.
Native American tribes, meanwhile, are considered sovereign nations, possessing inherent, federally recognized powers of self-government. Tribes write and force their own criminal and civil laws. If an injury or wrongful death occurs on tribal lands, it will be the tribe's rules that dictate whether one can file a claim. Our Everglades injury lawyers are familiar with the rights and limitations imposed by the individual tribes that own and operate businesses open to the public in this region and can help you ascertain the viability of claims for your losses.
Staying Safe in the Everglades
If you plan on visiting the Everglades and exploring its natural landscapes, it's important to know of and be prepared for some of the known risks. There are often dramatic weather changes, as well as unforgiving terrain and potentially dangerous plants and wildlife.
Know the weather forecast;
Bear in mind the personal physical fitness levels of all involved and consider limitations when planning an excursion.
Be prepared for outdoor activities with water, sunscreen and proper attire.
Keep small children close and supervised, especially around bodies of water and wildlife.
Contact Our Everglades Injury Lawyers
Call or email the Garvin Injury Law today for a free consultation and we will evaluate your claim and determine the appropriate course of action. We have offices in Fort Myers, Naples, and Key West.