Clewiston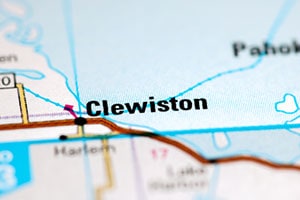 Clewiston personal injury lawyers at the Garvin Injury Law have been representing the injured in this small Hendry County, FL community on Lake Okeechobee's edge for more than three decades. Historically known as "America's Sweetest Town" thanks to its sugarcane production, Clewiston has about 7,500 residents occupying just 4.5 square miles. Visitors enjoy fishing, boating, nature trails and temperate climate.
Although Clewiston is generally considered a safe, quiet city; it does have a higher-than-average rate of deadly car accidents, serious truck accidents and certain violent crimes (when adjusted for population). Throughout Hendry County, unintentional injury is the number three cause of death, occurring at a higher rate than the state average (62 per 100,000 people versus 56 per 100,000, per the Florida Department of Health). It's also the number one cause of death for people ages of 1 through 44.
Trust the Clewiston Personal Injury Lawyers at The Garvin Injury Law
As Clewiston personal injury lawyers, we point this out because it's necessary for residents, workers and visitors to recognize where the most common hazards lie and to underscore there are many cases wherein one might be entitled to collect damages for things like:
Medical bills
Lost wages / disability
Loss of future earnings
Pain and suffering
Loss of life enjoyment
Loss of consortium (your spouse)
This course of action is especially critical here in Clewiston, considering Hendry County has double the national unemployment rate and nearly double the rate of those without health insurance, according to data from the non-profit Health Planning Council of Southwest Florida. Sometimes these strains compound and can make folks feel they have no choice but to accept the first offer made by insurance. If you're seriously hurt and someone else was responsible for it, their insurance will be offering you a settlement. If you aren't represented by a Clewiston injury lawyer, chances are signing may not be in your best interests.
In most Florida injury claims (except workers' compensation), you must show the other party (defendant) was at least partially negligent. Negligence is breaching one's duty of care. For example, drivers have a legal responsibility to operate their vehicles with reasonable caution, as well as abide traffic laws. Trucking carriers have a responsibility to carefully vet the drivers of their large trucks and make certain they are following federal hours of service regulations.
Common Clewiston Personal Injury Claims
Most Clewiston personal injury claims stem from things like:
Large Truck Accidents - Clewiston has many rural roads, but the sugar production and transportation require large trucks to be in and out constantly. As noted by the Insurance Institute for Highway Safety and Loss Data Institute, the rate of crash deaths per 100 million miles traveled is 2.4 times higher in rural areas than in urban areas. When it comes to fatal crashes involving large trucks, 73 percent occurred on rural roads versus urban roads. Crashes involving pickups, cars, minivans and sport utility vehicles are also more likely to be fatal when they occur on rural roads, but not to the same extent as large trucks. Vans and buses transporting migrant workers may also be more prone to collision on rural roads.
Worker Injuries - With a significant percentage of Clewiston's workforce in industries like agriculture and farming, transportation, cleaning and construction – all of which have higher injury rates than many other occupations – there are a significant number of work injury claims in Clewiston each year. Injured workers will first want to pursue no-fault workers' compensation benefits (mandatory for almost all Florida businesses). They should also discuss the possibility of third-party liability if someone other than their employer or co-workers held any responsibility. If the worker in question is undocumented, they are entitled to workers' compensation by Florida law. However, a loophole (which some legislators are working to close) involves a 2003 amendment to state workers compensation law, makes use of false identification to obtain a job and/or workers' compensation benefits, a felony. Injured workers in this situation should discuss their case with an experienced Clewiston work injury lawyer.
Car Accidents - Clewiston car accidents have involved drunk drivers, wrong-way drivers, distracted drivers and speeding drivers. Single-vehicle accidents unfortunately are quite common, with motorists veering off the road, striking trees and poles and sometimes careening into a canal. Passengers may be entitled to compensation from the driver's auto insurance and possibly from their own uninsured/underinsured auto coverage, if they have it, even if they weren't driving. Florida follows a system of no-fault car insurance, meaning regardless of fault, a maximum of $10,000 in medical bills and lost wages can be paid by the driver's own insurer. If passengers or those in other vehicles are seriously hurt, they can step outside the no-fault system and pursue a claim for bodily injury liability coverage against the driver who was at-fault. Because Florida follows a system of pure comparative fault, the fact that the victim may have shared some degree of responsibility won't bar the claim, but it could proportionately reduce compensation.
If you have suffered an injury in Hendry County, contact our experienced Clewiston injury attorneys.
Contact Our Clewiston Injury Lawyers
Call or email the Garvin Injury Law today for your free consultation and we will evaluate your Clewiston injury claim and determine the appropriate course of action. We have been handling Hendry County injury cases in Florida for over 30 years.