Estero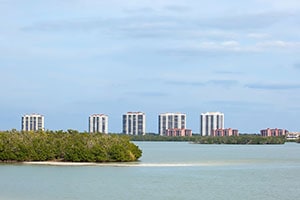 The village of Estero, FL is a community of about 30,000 residents, three-fourths of whom made this their home from someplace else. It's where you'll find some of the most popular draws in Southwest Florida, including Florida Gulf Coast University, Hertz Corporation, Hertz Arena, outlet malls, state parks (Lovers Key, Koreshan, Mound Key and Little Hickory) nature and wildlife tours, golfing, luxury hotels and some of the best beaches in Lee County.
The community, bordering Bonita Springs and Three Oaks, has seen exponential growth in the last two decades and more is on the horizon. This is a plus on many fronts, but something the Estero personal injury lawyers at the Garvin Injury Law know has increased certain risks. Unintentional injury is the third-leading cause of death in Lee County, with primary hazards being on the road, in health care facilities and nursing homes, in swimming pools and on construction sites.
Among the claims our Estero personal injury attorneys file:
Estero Car Accident Injuries / Wrongful Death
The influx of new residents and rising number of visitors in Estero means the roads are more packed than ever, especially during "season," which typically kicks off after Thanksgiving and ends sometime in the spring. Estero car accidents involving elderly drivers (the median age in Estero is 62, compared to 42 in Florida) are sometimes attributed to unique challenges some face, including physical frailty, weakening eyesight, cognitive limitations and effects from medications. Another vulnerable group on the roads is college students. At FGCU, 66 percent of students live off-campus, and their commute adds to the traffic, in addition to concerts and other events at Hertz Arena. Parking lot crashes and Estero pedestrian accidents are reported frequently at bustling shopping centers like Miromar Outlets, Coconut Point and Gulf Coast Town Center. Florida consistently has one of the highest rates of serious and deadly pedestrian accidents annually.
Estero Medical Malpractice Injury / Wrongful Death
Medical malpractice occurs when a doctor or other health care professional fails to provide adequate care in line with accepted medical standards, resulting in injury to a patient. Medical malpractice can include things like a missed diagnosis, a medication error, a surgical mistake or failure to treat. According to The Commonwealth Fund's scorecard on healthcare quality around the country, Florida has one of the worst health care systems in the country, ranking 49th in health access and affordability, prevention and treatment and with disparity between socioeconomic classes. Estero has many health providers in a wide range of specialties, and each are held to high standards for the care they administer. A report by The News Press in 2018 indicated many doctors in Lee County complained of "burnout," which could be an indicator of higher medical malpractice rates too (mistakes are more likely when health care workers are overworked/ understaffed). If you believe a doctor, radiologist, pharmacist, surgeon, dentist or nurse has fallen short of professional standards for your care or that of a loved one, discuss these concerns with a qualified Estero injury attorney.
Estero Nursing Home Injury / Wrongful Death
There are several assisted-living facilities and nursing homes in Estero, and many more in surrounding areas like Fort Myers, Bonita Springs, Naples and Cape Coral. Nursing home owners (increasingly for-profit corporations) and administrators have a responsibility to prioritize patient care when making decisions about staffing, resources and policy. Unfortunately, that's not always the case, resulting in nursing home neglect or negligence. Poor hygiene, falls, bed sores – none of these are a "normal" part of aging, and the nursing home staffers have a responsibility to ensure patients are receiving good care in accordance with rules outlined in Chapter 400 of Florida Statutes.
Estero Swimming Pool Accident / Drowning
Florida has one of the highest rates of swimming pool use in the U.S., with Florida State University researchers counting at least 1.1 million residential permits. The Florida Department of Health reports this state also has one of the highest child drowning rates in the country. Near-drowning incidents can also be life-altering. These incidents are wholly preventable, often the result of a pool owner failing to take reasonable or even required steps to keep their pool safe and secure. Defendants in these cases can include individual homeowners or a water park, hotel, cruise line, theme park or other responsible party. As our Estero injury lawyers can explain, Florida property owners are required to keep their property in reasonably safe condition and to warn of any dangers. Failure to do so can result in a finding of liability for the resulting harm. These cases are referred to as "premises liability."
Estero Construction Accidents
The ongoing growth of this community means we have many construction workers on-the-job at any given time. Construction site injuries can include burns, crane accidents, forklift accidents, slips and falls, structural collapses, electrical shock, scaffolding accidents, ladder falls and sprains and strains due to heavy lifting. Almost all employers in Florida are required to carry no-fault workers' compensation insurance. You may have to fight with the insurer for benefits, though. Additionally, if another person or company played some role in causing the Estero construction injury, you may have grounds to pursue a third-party liability lawsuit.
Claims for injuries in Southwest Florida certainly aren't limited to these, but you get a sense of some of the more common causes of serious or fatal injury in Southwest Florida. If you are injured or have lost a loved one and believe someone else is responsible, our injury attorneys in Estero can answer your questions.
Contact Our Estero Injury Lawyers
Call or email the Garvin Injury Law today for your free consultation and we will evaluate your Estero injury claim and determine the appropriate course of action. We have been handling Lee County injury cases in Florida for over 30 years.