Port Charlotte, Florida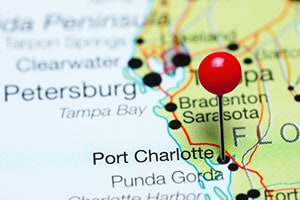 Located on Florida's gorgeous Gulf Coast, Port Charlotte is the most populated community in Charlotte County. It's an unincorporated area home to more than 50,000 people, with residents, snowbirds and tourists year-round enjoying the expansive golf courses, boat rentals, fishing charters, cultural center and public beach parks.
At The Garvin Injury Law, our Port Charlotte personal injury lawyers have been committed the last four decades to ensuring adequate compensation for those injured accidents involving motor vehicles, boats, dangerous walking surfaces and poor quality health care. Those with the privilege of driving a car, operating a boat, running a business or operating with a medical license owe a duty to use reasonable care. Failure to do so is negligence, the grounds upon which we can assert a demand for just compensation.
Personal injury isn't foremost on the minds of those who flock here, but it's a reality that sometimes arises, primarily due to the negligence of one or more parties. Port Charlotte car accidents are the most common incidents giving rise to civil injury claims, but we also see steady numbers of motorcycle accidents, boating accidents, slip-and-fall injuries, nursing home neglect and sometimes even medical malpractice allegations.
Port Charlotte Auto Accidents
The Charlotte County Sheriff's Office, responsible for patrolling unincorporated areas of the county – including Port Charlotte – reports more than 2,100 total crashes in a single year, resulting in approximately 1,100 injuries. There were also dozens of pedestrian accidents and bicycle accidents, as well as more than 300 commercial vehicle accidents involving large or oversized trucks, buses and vans.
Frequently reported car accident injuries include neck and chest injuries (whiplash, vocal cord paralysis, collapsed lungs, etc.), head and back injuries (concussions, traumatic brain injuries, spinal cord injuries, herniated discs), broken bones and ligament damage (such as a torn ACL). These injuries can leave you laid up in the hospital for a long stretch, followed by rehabilitation and possibly follow-up surgery. Medical bills mount and people usually miss at least some time from work. You don't have to handle the financial burden on your own. Our personal injury lawyers in Port Charlotte will negotiate with insurers, and won't hesitate to take a case to trial if it's in the client's best interests.
Those injured in Port Charlotte crashes caused by negligent drivers may be entitled to collect compensation for:
Medical bills;
Lost wages;
Pain and suffering;
Mental / emotional suffering.
Family members may be entitled to seek damages for loss of consortium in instances involving catastrophic injuries or wrongful death of a loved one. These are known as "compensatory damages," meaning the intention is to make the victim whole again (or as whole as possible) via monetary compensation.
In rare cases (mostly involving drunk drivers or profit-motivated trucking carriers), your injury attorney may ask the court for permission to pursue punitive damages, which per F.S. 768.73 are intended to punish a tortfeasor (wrongdoer) and serve as a deterrent to others. In most cases, punitive damages in Florida are limited to three times compensatory damages or $500,000 (whichever is greater), though in cases where tortfeasor was motivated by profit, it can be up to four times the amount of compensatory damages or $2 million (whichever is greater).
Contacting an experienced Port Charlotte personal injury attorney as soon as possible after a crash can help you understand your legal options – and ensure you don't miss any key notice or statute of limitations deadlines, as established by F.S. 95.11.
Port Charlotte Slip-and-Fall Attorneys
Another common cause of personal injuries in Port Charlotte are slip-and-fall accidents. The Florida Department of Health reports unintentional falls are the No. 1 cause of death among Floridians over age 65, and the fourth-leading cause of injury deaths overall. An estimated 2,500 people die and another 63,000 are hospitalized after falls.
Total admission charges for these injuries is $3.6 billion annually statewide. When slip-and-fall injuries are the result of property owner negligence, a civil personal injury claim in Port Charlotte may help victims recover damages.
We recognize the aftermath of a serious injury is a confusing and stressful time. We can ease some of those burdens by handling all insurance adjuster contacts, helping you estimate what is fair compensation for your case and fighting to get it for you. Our injury attorneys in Charlotte County have a reputation for being not only skilled and knowledgeable, but also transparent, honest and compassionate legal advocates for our clients.
Contact The Garvin Injury Law personal injury attorneys in Port Charlotte today at 239.277.0005 or online for a free case review.