Bonita Springs, Florida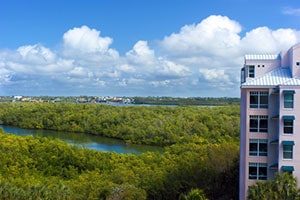 The City of Bonita Springs is renowned for its beautiful beaches, fine dining and retail and rich cultural experiences. This Lee County gem bordering Collier County is a prime destination for boating, shopping, beach lounging, biking, hiking and more.
At The Garvin Injury Law, our Bonita Springs personal injury lawyers are committed to keeping this community safe by fighting for the rights and best interests of those injured by careless drivers, property owners, healthcare providers and more. For more than 40 years, we have worked tirelessly to ensure victims of serious injury, caused by someone else, are justly compensated for their losses.
Damages in Bonita Springs Injury Lawsuits
Those who win a Bonita Springs injury lawsuit – whether via pre-trial settlement or by jury verdict – are typically entitled to collect damages. The exact amount of damages you can recover will vary on a case-by-case basis, but most can recover compensatory damages (designed to "make whole" the victim again, to whatever extent possible). These may include:
Monetary losses. These would be things like medical expenses, the cost of living with a disability, lost wages, repair or replacement of property or funeral expenses.
Non-Monetary losses. This would include damages for pain and suffering (physical pain, emotional distress, loss of life enjoyment, etc.). It could also include loss of consortium, which is generally awarded to spouses of personal injury or wrongful death victims, as they suffer intangible losses that are central to a marriage or familial relationship (i.e., loss of companionship, society, assistance and sexual relations).
Then we have punitive damages. Such damages are not designed to compensate the victim (though they are ultimately usually paid to the victim), but rather to penalize the defendant for inflicting injuries and serve as a deterrent to others from doing the same kind of thing.
Punitive damages cannot be sought in all cases. As outlined in F.S. 768.72, punitive damages aren't permitted unless there is a reasonable showing a defendant was personally guilty of intentional misconduct or gross negligence. This is when defendant either had actual wrongfulness of conduct and high probability of injury and intentionally pursued that conduct anyway, or defendant's conduct was so reckless or wanting in care it amounted to a conscious disregard or indifference to someone else's life or well-being. A judge must approve a request from a plaintiff before he or she can pursue punitive damages. As noted in F.S. 627.737, punitive damages aren't allowed in auto accident cases where plaintiff is seeking damages from an insurer in excess of policy limits.
Bonita Springs Auto Accidents
Bonita Springs is growing at breakneck speed – with the city reporting a nearly 200 percent increase in population since 1990 and a 60 percent increase since 2000. More than 47,000 people call this home, and many thousands more make this their vacation destination, seeking out Barefoot Beach Preserve Park, Bonita Beach Park, Lover's Key State Park, The Naples-Fort Myers Greyhound Track and the Center for the Arts of Bonita Springs.
Of course, this residential growth and uptick in tourism has substantially increased traffic volumes in recent years.
The Lee County Sheriff's Office, responsible for policing within city limits, reports more than 5,000 auto accidents in a single year. Approximately one-third of those result in personal injuries to drivers, passengers, pedestrians and bicyclists.
If you are hurt in a Bonita Springs car accident, a Bonita Springs personal injury attorney can help you pursue compensation from:
Personal injury protection (PIP) benefits, up to $10,000 per F.S. 627.736, usually obtained through claimant's own auto insurer;
Bodily injury liability benefits (not required by law but standard with most Florida auto insurance policies), paid by negligent driver's auto insurer;
Uninsured / underinsured motorist (UM/UIM) benefits, per F.S. 627.727, paid by one's own auto insurer when at-fault driver is not identified (hit-and-run), doesn't have insurance or lacks enough insurance to fully cover damages;
Umbrella insurance policy, additional liability coverage paid by at-fault driver or vehicle owner's insurer.
You may have additional recovery options, especially if the crash involved a commercial driver or vehicle. It's important to discuss these avenues with an experienced personal injury lawyer in Bonita Springs.
Slip-and-Fall Accidents in Bonita Springs
Although Bonita Springs was historically a retirement and second home vacation community, that has changed in recent years as businesses have been drawn in by low tax rates, ample inexpensive commercial space and rising numbers of young professionals.
These businesses owe a duty of care to invitees to make sure the property is reasonably safe and guests are warned of any dangerous conditions not immediately remedied. Failure to do so is a form of premises liability, which can include slip-and-fall injuries.
Our experienced personal injury lawyers are committed to helping victims of negligence obtain fair compensation for their losses.
Initial consultations are free, and services are offered on a contingency fee basis, meaning you pay no attorney's fees unless we are successful in your case.
Contact The Garvin Injury Law personal injury attorneys in Bonita Springs today at 239.277.0005 or online for a free case review.