North Fort Myers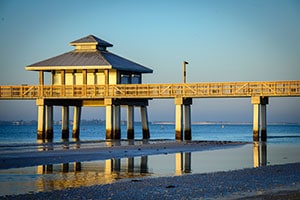 North Fort Myers is a steadily-growing community on the northern shore of the Caloosahatchee River, connected by bridge to downtown Fort Myers.
As longtime North Fort Myers personal injury lawyers at the Garvin Injury Law, we've watched the explosive growth of this 70-square-mile community these last three decades, even though large sprawls of farmland and undeveloped property still reflect its rural agrarian roots. More than 40,000 residents call this unincorporated expanse of Lee County home. North Fort Myers is also a popular spot for visitors seeking a slice of inland Florida, with horse trail rides, boating excursions, waterfront dining and unique places like the Shell Factory & Nature Park.
Although the community is generally considered safe, our North Fort Myers personal injury lawyers know the area has seen its share of motor vehicle crashes (including pedestrian accidents and motorcycle accidents), boating accidents, falls (often construction site falls from heights, but also slips and trips) swimming pool accidents and drownings, horse riding mishaps, dirt bike and ATV accidents, and medical mistakes.
As reported in a recent health needs assessment by Lee Health and the Florida Department of Health in Lee County, motor vehicle deaths and falls account for 65 percent of all accidental deaths here – with rates for both (especially falls) higher than state and national averages. The Health Planning Council of Southwest Florida Inc. reports unintentional injury is the number three cause of death in Lee County.
Our team has been successful in assisting those injured in North Fort Myers obtain compensation from negligent parties and insurers. Negligence is the breach of a duty to use reasonable care resulting in harm to someone else.
Accountability through personal injury or wrongful death claims and litigation not only serves to relieve the injured or survivors of unfair financial strain, it also helps make North Fort Myers safer. Many will vigorously fight negligence claims, which is why you need a good injury attorney. Still, the law is very clear about the compensation rights of those injured by negligence, work hazards or violence. When held responsible, defendants have a greater incentive to exercise more caution in the future.
Even if the person injured is partially responsible, it won't prohibit him or her from collecting damages, as noted in F.S. 768.81.
North Fort Myers Car Accident Lawyers
As North Fort Myers has grown, it has seen many major thoroughfares (mostly county roads) and highways (exit 128 off I-75) become increasingly congested. Naturally, that means more car accidents, though because North Fort Myers is unincorporated, crash statistics are lumped together with the rest of Lee County.
What our personal injury lawyers in North Fort Myers can say with certainty is that addition to the long-existing road hazards of speed, impairment, aggression and general carelessness, and distraction behind the wheel has rapidly emerged as a serious problem. The recent health assessment indicated even though F.S. 316.305 bans texting and driving (not to mention it's a form of negligence), 27 percent of motorists self-reported texting while driving in the last month. Further, 11 percent reported texting six times or more in the last 30 days. The actual number is likely much higher – a scary fact considering how dangerous we know the practice to be while behind the wheel.
Also, pedestrian accidents are a big problem here. Part of it has to do with roadway design dating back to post-WWII. Streets were constructed to be wide for fast-moving traffic and with very few sidewalks, crosswalks are the only barriers between pedestrians and speeding cars and trucks. The Dangerous by Design annual report by Smart Growth America has designated the Cape Coral-Fort Myers metro area (which includes North Fort Myers) as number one nationwide for pedestrian accident deaths.
Additionally, eight of the top 11 most dangerous metro areas for pedestrians are in Florida – concentrated specifically in South Florida.
Compensation for Injuries Due to Falls in North Fort Myers
Falls are listed as the number one cause of unintentional injury deaths in this area. A "fall" in this case refers to a broad number of scenarios, including slip-and-falls in a store, falls from height (usually at work) or nursing home falls.
A fall from heights that occur in the course and scope of employment, such as in a construction site accident, are compensable through no-fault workers' compensation (pretty much every employer in Florida is required to have it). If there were third parties that were negligent in contributing to the work accident, such as careless property owners or manufacturers of defective tools or other products, a third-party liability claim can also be filed for additional compensation.
With nursing home falls, the U.S. Centers for Disease Control and Prevention reporting an average of 2.6 falls per patient per year. More than a third of those involve patients who cannot walk and roughly 20 percent result in serious injury. The overall rate of older adult deaths from falls rose 31 percent in a recent 10-year span.
Falls resulting in serious injury are almost always the result of some form of nursing home negligence, usually related to understaffing, poor training or inadequate supervision.
If you are injured in North Fort Myers and the incident was wholly or partially someone else's fault (or at least you suspect so), our North Fort Myers personal injury lawyers are available to answer your questions and weigh your likelihood of a successful claim.
Contact Our North Fort Myers Injury Lawyers
Call or email the Garvin Injury Law today for your free consultation and we will evaluate your North Fort Myers injury claim and determine the appropriate course of action. We have been handling North Fort Myers injury cases in Florida for over 30 years.