Fort Myers Bad Faith Insurance Lawyer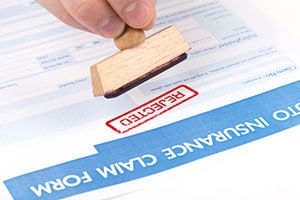 Florida's bad faith insurance laws are designed to protect consumers from fraudulent or unfair insurance practices. The purpose is to establish a check on the substantial wealth and power that insurance companies have on individual consumers required to purchase those policies.
Insurers are required by law to act in good faith toward both policyholders and third-party claimants. That means they must not engage in fraud or unfair dealing.
The Fort Myers bad faith insurance lawyers at Garvin Injury Law are committed to holding insurers accountable for their failure to meet their obligations under Florida's insurance laws.
These cases are often complex and separate from personal injury lawsuits filed directly against the at-fault party. Carefully documenting all interactions with claims adjusters is important to establishing a strong case. Hiring an attorney with experience and a track record of success in litigating bad faith claims is also essential.
Numerous types of unfair insurance company tactics stemming from a personal injury claim can constitute bad faith. These may include:
Refusing payment for a valid claim with no reasonable basis.
Issuing an unreasonably low payment on a valid claim with no justifiable basis.
Initiating a settlement offer that is far too low and not supported by the facts on record.
Delaying a payment on a valid claim absent proper justification.
Failure to affirm or deny coverage within a reasonable amount of time.
Ignoring phone calls, emails or other correspondence regarding a valid claim.
Employing threatening, abusive or intimidating tactics.
Failure to complete a prompt, proper and thorough investigation on a valid claim.
Burdening claimants with unnecessary requests for documentation and other requirements.
Not providing a basis for denying a claim or settlement offer.
Misrepresenting the policy language or the law.
Essentially, these are breach of contract cases arising from a breach of the policy terms and conditions. Insurance is a contract wherein one party pays the premium, and the other undertakes a responsibility to compensate for specified losses.
It is important to point out that not every denial of an insurance claim constitutes bad faith. An experienced, knowledgeable bad faith insurance attorney in Fort Myers can review your case and determine whether the insurer or adjuster deviated from the implied covenant of good faith and fair dealing.
First-Party vs. Third-Party Bad Faith Insurance Claims
There are two types of bad faith insurance claims in Florida:
First-party bad faith insurance. This is when an insured files a lawsuit against his or her own insurer for refusal to settle the insurer's own claim in good faith. For example, an insured may be involved in a car accident with an uninsured or underinsured motorist, yet their own UM / UIM carrier refuses to pay benefits according to the policy terms.
Third-party bad faith insurance. This is when an insurance company fails to act in good faith in settling a third party's claim against the insured for the policy limits.
There are both statutory and common law duties of good faith to which insurers are bound.
Statutory vs. Common Law Bad Faith
F.S. 624.155(1) establishes a statutory cause of action (grounds to file a lawsuit) for first-party bad faith claims in Florida. This measure was enacted in 1982, and requires insurers to act in good faith in settlement negotiations with third parties, but also with policyholders seeking payments from their own insurer. The statute allows "any party" has the right to a claim when an insurer acts in bad faith by, "Not attempting in good faith to settle claims when, under all the circumstances, it could and should have done so, had it acted fairly and honestly toward its insured with due regard for his or her interests."
To bring a statutory bad faith claim, a plaintiff is required to give the insurer 60 days' written notice for any alleged violation. From there, the insurer has another 60 days upon receipt to either correct the circumstances or pay the damages. This is part of the reason it's so important to have an experienced bad faith insurance lawyer in Fort Myers working with you early on in any personal injury claim or as soon as you suspect you may have been treated unfairly by the insurer.
Claims involving third parties can be filed either under this statutory provision or according to common law. If they are filed under common law, no civil remedy notice is required.
As noted in the 2006 Florida Supreme Court ruling in Macola v. Government Employees Ins. Co., the essence of a third-party bad faith insurance claim is that an insured is exposed to an excess judgment because the insurer failed to properly and promptly defend the claim. In other words, the insurer had an opportunity to settle the case for the policy limit or under the policy limit, but refused and thus exposed the insured to a monetary judgment that exceeded policy limits.
As noted in the 1997 Florida Supreme Court decision in State Farm Fire & Cas. Co. v. Zebrowski, third parties can only pursue a third-party bad faith claim directly against a third-party insurer if they first obtain a judgment against the insured in excess of the policy limits.
If you have reason to believe an insurer acted in bad faith in handling your personal injury claim, our Fort Myers bad faith insurance attorneys can help.
Contact the attorneys at Garvin Injury Law today at 239.277.0005 or online for a free case review.