Communities Served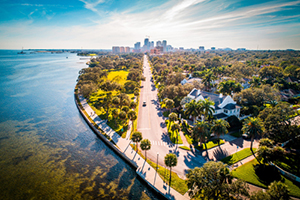 The Fort Myers personal injury lawyers at Garvin Injury Law are proud to serve more than a dozen communities in this region, with principal offices in Fort Myers, Naples, and Key West.
This unique region of the Sunshine State has much to offer those who flock here: A premier tourist destination, a welcome winter respite, a bustling business hub, or simply "home." While we do love it here, it is not all sand, beaches, and 5 o'clock somewhere. Almost daily, someone suffers a personal injury due to someone else's carelessness or even criminal conduct.
We work to help victims of personal injury recover monetary compensation to help them back on their feet and on to the next chapter. In some cases, things might not ever be the same. Scars remain, and we cannot bring loved ones back. But our ambition will always be to fight for you and your loved ones to regain solid financial footing. We achieve this with a thorough investigation of your case, careful development of effective legal strategy, and dogged efforts through the duration of pre-trial settlement negotiations and trial.
Driven to be the best personal injury lawyers in Fort Myers and elsewhere in Southwest Florida, Garvin Injury Law is committed to helping our clients secure maximum damages for the injuries they have suffered.
The communities we serve include:
At Garvin Injury Law, you will find trusted and accomplished injury lawyers, skilled and experienced in civil litigation and insurance negotiation. As long-time residents of this community, we have a unique understanding of key players and decision-makers in each venue.
Courts in South Florida
Most injury lawsuits (car accidents, slip-and-fall injuries, dog bites, dangerous condition on property, and more) filed in Southwest Florida will be handled at the circuit court level, within the 20th Judicial Circuit. This court serves Lee, Charlotte, Collier, Glades, and Hendry County. That would include the communities of Fort Myers, Cape Coral, Naples, Lehigh Acres, Bonita Springs, Port Charlotte, Punta Gorda, Fort Myers Beach, Immokalee, Sanibel-Captiva.
The 20th Judicial Circuit was established in 1970 and as of this writing has 31circuit judges, though only a third of those presiding over civil litigation (most of them based in Lee County).
Also, in South Florida, we have the 12th Judicial Circuit, which serves Desoto, Manatee, and Sarasota Counties, which include Englewood and North Port. The court has jurisdiction over civil actions exceeding $15,000 and will also hear appeals from the county courts. (Civil claims for under $15,000 are considered small claims, and they are weighed by the county judges.)
There is also the Sixteenth Judicial Circuit, which oversees cases in Monroe County, which includes all the Florida Keys and Key West.
At the appellate level, we have Florida's Second District Court of Appeal and Florida's Third District Court of Appeal. Justices in appellate courts generally consider appeals from either side of a civil case if there is disagreement about the legality or outcome of the trial following a verdict. Sometimes, a trial court will grant summary judgment (judgment as a matter of law) to one party or another summarily, without a full trial. That can mean your case is over before it gets started, though the appellate court has the authority to reverse and remand back to trial.
Finally, at the federal level, the personal injury attorneys at our Fort Myers firm are admitted to practice in both the U.S. District Court for the Middle District of Florida, as well as the U.S. District Court for the Southern District of Florida. Primarily, our civil cases at this level would involve large corporate defendants and class action cases.
Our personal injury attorneys will keep you apprised on developments in ongoing motions and hearings, as well as court appearances, depositions, and independent medical exams that may require your presence and cooperation. This is important for all clients, but often those who were injured while visiting South Florida find it difficult to be involved while living out-of-state or abroad.
We work to help streamline this process for you and make it as painless as possible, making sure you are not missing any key developments and capably acting as your representative when you cannot physically be here.
Contact our Fort Myers personal injury attorneys at Garvin Injury Law today at 239.277.0005 or online for a free case review.