Fort Myers, Florida
Your Accident Attorneys in Fort Myers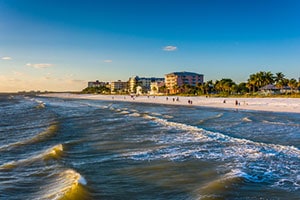 A Fort Myers car accident can leave you reeling, grappling with injury, trauma or even the tragic death of a loved one. The Fort Myers personal injury lawyers at The Garvin Injury Law want to hear from you.
Involvement in an auto accident caused by the negligence of another – whether an individual or a company – is not only stressful and frustrating, it's often quite confusing. Laws pertaining to traffic, insurance and damages can be complex. Plus, there may be a relatively short window of time to file your claim before you lose your right to compensation. Florida's statutes of limitations on injury claims are outlined in F.S. 95.11. Even though you have four years to formally file a crash injury lawsuit and two years to file for wrongful death damages, several factors can impact your timelines. It's best to contact an attorney as soon as possible after the crash. We can help preserve key evidence and fresh witness statements, as well as make sure insurers aren't taking advantage of you and that your words aren't twisted in a way that could ultimately hurt your chances of maximum compensation.
Motor vehicle accidents in Fort Myers are most often caused by negligence of another driver. Proving negligence means establishing:
The other driver owed a duty of care to operate their vehicle in a reasonably safe manner;
The other driver breached that duty of care, either by violation of traffic laws or some other means;
That breach of duty caused the crash – in whole or in part;
That crash resulted in your injuries and damages, for which you are entitled to compensation.
In other cases, auto accidents are the result of unsafe vehicles or vehicle parts, such as brakes or seat belts. In this case, the matter would fall under a product liability claim. In other instances, crashes are the result of unsafe conditions on property, such as overgrown shrubs or an unsafe intersection. These cases would fall under the umbrella of a premises liability claim.
At The Garvin Injury Law, our Fort Myers personal injury attorneys work diligently to help you identify the root causes and defendants who may be responsible for compensation. We can also help you in filing for personal injury protection (PIP) benefits, as outlined in F.S. 627.736. This is a no-fault system that allows for up to $10,000 in coverage for medical bills and lost wages stemming from crash-related injuries.
Your first action after receiving medical care should be to contact an experienced personal injury attorney. Having an attorney present before making formal statements to law enforcement investigators or insurance adjusters is essential. An accident attorney can help protect you from potentially incriminating yourself or having your words twisted by a skilled insurance adjuster.
Even if you believe you may have been partially to blame for your injuries, you may still be able to collect damages. That's because Florida follows a model of pure comparative negligence standard, as laid out in F.S. 768.81. What this means is compensation for personal injuries is proportionately reduced by how much of the blame you share. So even if you are 99 percent at-fault for the accident that caused your injuries, you are still entitled to collect the remaining 1 percent in damages from the other at-fault party. Of course, one of our goals as injury lawyers is to minimize any assertions of your shared blame to ensure you receive maximum compensation for your injuries.
In addition to auto accident injury claims, the personal injury lawyers at our Fort Myers firm can also help with a wide range of other torts, including those stemming from:
Motorcycle accidents
Boating accidents
Aviation
Bicycles
Premises liability
Slip-and-fall
Defective products
Construction accident
Criminal assault
Animal attacks / dog bites
Medical malpractice
Wrongful death
Many of these claims will be based on a theory of negligence, but some may have complexities that aren't immediately obvious or strict timetables that require immediate action. For instance, while the statute of limitations on auto accident claims is four years, there may be circumstances that require you to file notice sooner. You may have four years to file your construction accident injury claim against a third party, but your workers' compensation claim needs to be filed sooner. Wrongful death and medical malpractice claims need to be filed in just two years. If you miss an important deadline, you could forever lose your right to fight for compensation. When your attorney is on board early on, we can help preserve key evidence and witness statements and work to have your claim resolved in a timely manner – so you can start picking up the pieces and move forward.
It may not even be necessary to file a lawsuit, but your attorney can advise you on whether the settlement offer made by the insurer(s) involved is a fair one.
Whether your injury occurred on the road, on someone else's property or in a hospital, we can help you make sense of the situation and fight for the maximum compensation available under Florida law.
Contact The Garvin Injury Law personal injury attorneys in Fort Myers today at 239.277.0005 or online for a free case review.