Can I Sue for a Florida Construction Accident Injury?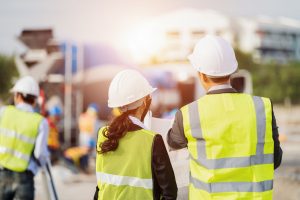 As far as workplaces go, construction sites are among the most precarious. The U.S. Bureau of Labor Statistics reports that of the more than 300 workers who died on-the-job in Florida in a single recent year, the private construction industry had the highest number, accounting for 91 percent of those. The risk of a Florida construction accident is heightened when work is done at significant heights, next to a busy roadway, down in trenches, and with toxic materials, hazardous chemicals, and live electricity. The number of workers who survive – albeit with serious injuries – is even higher.
Among recent incidents of construction accident injury in Florida:
As our Fort Myers construction injury lawyers can explain, it is possible for workers injured in Florida construction accidents to sue. However, most cases are typically third-party liability lawsuits as opposed to direct lawsuits against an employer. That's because Florida workers' compensation laws – F.S. 440.11, in particular – holds that no-fault workers' compensation coverage is the exclusive remedy for injury claims an employee may have against an employer. There are, however, some exceptions and (more commonly) situations where third parties are liable.
Legal Options After Florida Construction Accident Injury
Workers' compensation is sometimes referred to as "the grand bargain." It arose from the Progressive Era of workers' rights, and involved workers injured on the job giving up the right to sue employers for personal injury damages in exchange for benefits that were less generous, but more certain. However, as time has worn on, the bargain became a lot less "grand" from the workers' perspective. (Non-profit journalism outlet ProPublica a few years ago did an excellent deep-dive investigation into the erosion of workers' compensation rights across the country over the last few decades.) Bottom line: It's tough to receive full and fair compensation for on-the-job injuries, particularly serious ones. Third-party claims can open the door to additional damages that aren't available through workers' compensation, such as pain and suffering, mental anguish, and loss of consortium.
You may have grounds to pursue a claim for a work-related injury if:
You are not the company's employee. Lots of construction companies use subcontractors to complete work. If your employer is the subcontractor or if you're an independent contractor, you may have grounds to pursue a claim against the general contractor, the property owner, and possibly others operating on site, assuming they were negligent. In general, the more control the defendant had over the site, the greater their responsibility to ensure a safe working environment.
Other third parties were negligent. If you're a roadside construction worker struck by a motorist, you would have a third-party claim against that driver. If you're using a tool that misfires or malfunctions, you may have a third-party product liability claim against the manufacturer or others in the supply chain.
The employer committed an intentional tort that resulted in the death of the employee. An intentional tort is proven by showing evidence of deliberate attempt to injure or engaging in conduct that, given prior explicit warnings or similar accidents, the company knew was all but certain to result in serious injury or death to a worker. This is a very high proof standard, and is almost never used in Florida personal injury law.
The employer failed to secure workers' compensation insurance, as required by state law. As noted by the Florida Division of Workers' Compensation, employers conducting work in Florida must provide workers' comp insurance for their employees. Coverage requirements vary depending on the type of industry, number of employees, and the organization of the entity. In the construction industry, any company with one or more employees must carry workers' compensation coverage for employees – including business owners who are corporate officers or Limited Liability Company (LLC) members. Out-of-state employers must notify their insurer that they're working in Florida; if there is no insurance, out-of-state employers are required to secure a Florida policy with an approved carrier. Contractors are required to make sure all subcontractors have the required workers' compensation coverage before they break ground on a project. If they do not, those workers become employees of the contractor for workers' compensation purposes. If an employer does not have the requisite insurance as required by law, they can be sued by the injured worker or surviving family members.
Some Florida construction accident claims can be settled without the need to file a lawsuit. It's simply a matter of your attorney identifying all potentially liable entities and then negotiating with insurers. Other times, defendants will put up a fight. Having a skilled, experienced legal advocate on your side can make a substantial difference in your chances for success in this arena.
 If you are injured in Fort Myers, Port Charlotte, Sarasota, Cape Coral, Naples or Key West, contact Garvin Injury Law at 800.977.7017 for a free initial consultation. 
Additional Resources:
Coverage Requirements, Florida Division of Workers' Compensation
More Blog Entries:
Florida Slip-and-Fall On-the-Job: Beyond Workers' Compensation, April 30, 2021, Fort Myers Construction Accident Lawyer Blog