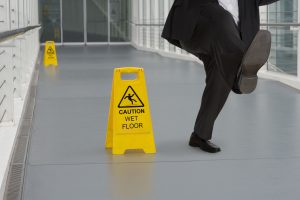 Whether you are a construction worker, nurse, or teacher, if you are injured on-the-job in a Florida slip-and-fall, workers' compensation may be your sole source of financial recovery. Workers' compensation is considered the exclusive remedy for most work-related injuries in Florida, meaning it is the only recourse one has against an employer. Workers do not need to prove negligence so long as they were hurt in the course and scope of employment, and in turn the employer covers the cost of treatment and a portion of lost wages during recovery.
However, workers' compensation tends to fall short of the damages (pain and suffering, loss of life enjoyment, etc.) one could recover in a personal injury lawsuit. Because the exclusive remedy provision of Florida workers' compensation law makes it almost impossible to win a personal injury case against one's own employer, our South Florida slip-and-fall injury lawyers would primarily be concerned with the potential liability of a third-party property owner/controller or other liable parties. This would be someone other than your direct employer. (Note: Independent contractors are often not  considered "employees" for workers' compensation purposes and thus may be allowed to pursue injury claims against the company for whom they were working.)
Slip-and-fall cases are a type of premises liability. Premises liability is a legal concept referring to an injury caused by an unsafe or defective condition on someone else's property. To win, a plaintiff must prove negligence (failure to exercise reasonable care) in owning/maintaining the property. The mere fact of a dangerous condition or occurrence of injury does not automatically mean the property owner was negligent. In most cases, you must prove the property owner knew or reasonably should have known the site was unsafe and failed to take proper steps to address the danger. (The exact proof burden for slip-and-fall injury claims is spelled out in F.S. 768.0755.)
It is important that if you are seriously injured at work and believe a third-party was at least partially responsible that you speak with an experienced injury lawyer about your legal options. You may have grounds to pursue additional damages beyond workers' compensation.