Fort Myers Premises Liability Lawyer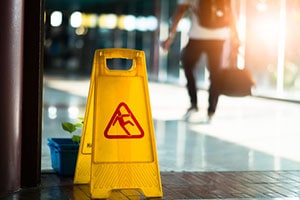 Premises liability laws protect victims of all ages who are injured on someone else's property.
Many publicly and privately-owned establishments such as airports, nightclubs, schools, retail stores, and parking lots have a legal responsibility to abide by the established safety standards. They must operate their property in a manner that does not pose an unreasonable danger, especially when the individuals are on-site to further the property owner's business interests.
At Garvin Injury Law, our Fort Myers premises liability attorneys recognize that this area of law can be highly technical and complex. That is why we offer legal services from attorneys with extensive experience and a proven track record of success in these cases.
Some examples of common Florida premises liability claims include:
Trip and fall on an uneven or broken sidewalk
Slip and fall on a slick floor
Obstruction in a stair or aisle
Inadequate lighting
Poorly-lit entry or stairwell
Missing or broken handrails on stairs
Dangerously displayed merchandise
Swimming pool lacking gates or locks
A swimming pool without clear depth markers, lights, or supervision
Lack of adequate security resulting in criminal assault
Non-working locks or a security gate
Non-obvious obstruction or fall hazard on a walkway
Dangerous animal / dog bite
In general, owners and landlords are responsible for providing secure and safe conditions, whether you are a customer, tenant, or employee. However, not everyone is owed the same duty of care, and some property owners may be shielded from liability. Much will depend on your visitor designation.
Legal Status of Plaintiff in Florida Premises Liability Lawsuit
Your legal status will depend on your purpose for being on-site, and a premises liability lawyer in Fort Myers can look into the nuances of this issue. Was it a social visit? Were you there as a customer? Are you a tenant? Those who are there for the property owner's financial benefit will have far more legal protection than someone breaking in to commit burglary.
In general, three different legal designations that come into play:
Invitee
Licensee
Trespasser
An invitee is an individual the property owner has invited onto the site, typically for business purposes. An example would be a customer at a retail store or a contractor or a construction site. Property owners owe the highest duty of care to invitees. They are required to make sure their property is safe by addressing or warning about known hazards and regularly performing inspections to check for possible dangers.
A licensee is an individual who is on-site for their own purposes. In other words, they might not have an invitation, but the property owner consents to their presence. This could be a friend who comes to your home unexpectedly or a solicitor who comes to the business with an offer for the owner/ manager. Property owners do not owe licensees the same degree of care as invitees. Still, they do have to make sure they do not "willfully or wantonly" harm licensees, meaning they cannot create an unreasonable risk of physical harm. They must warn against non-obvious hazards.
Finally, trespassers enter the property without permission or remain without the right to do so. In this case, the only duty owed is not to willfully or wantonly cause harm or intentional misconduct, such as setting up traps. However, there is a different standard for children who trespass. This falls under the attractive nuisance doctrine. As outlined in F.S. 823.08, an attractive nuisance may be tempting to children, who, may not appreciate the danger by nature of their young age. Examples may include abandoned or discarded refrigerators, clothes washers, or other air-tight units from which the doors have not been removed. Swimming pools, holes, caves might also be considered an attractive nuisance.
Foreseeability in Florida Premises Liability
One of the key components of a premises liability claim is foreseeability. That is, could the defendant have foreseen there was a danger on site that might cause someone to be injured? If not, it may be very difficult for a Fort Myers premises liability lawyer to recover damages for a victim.
As outlined in the 1992 Florida Supreme Court case of McCain v. Florida Power Corp., foreseeability is critical in outlining the scope of duty that is placed on any property owner to avoid negligent acts or omissions. A legal duty arises whenever human action creates a generalized and foreseeable risk of harming someone else. If a defendant's conduct creates a foreseeable zone of risk, the law generally recognizes a duty placed on the defendant to either:
Lessen the risk;
Take sufficient precautions to protect others from the harm that risk poses.
Property owners who create dangerous conditions or fail to address them when they are known or foreseeable can be held accountable when such actions or omissions result in injury to someone else.
Our personal injury attorneys will work to develop effective legal strategies in your premises liability case.
Contact the Garvin Injury Law premises liability attorneys in Fort Myers today at 239.277.0005, or online for a free case review.