Lehigh Acres, Florida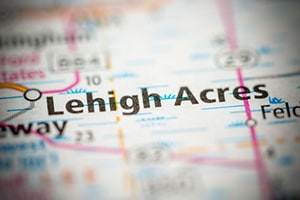 Lehigh Acres is one of the biggest residential communities in Florida, with more than 96-square miles comprised mostly of single-family homes and lots. Most recent U.S. Census figures estimate nearly 90,000 people call this Lee County community home.
The Lehigh Acres personal injury attorneys at The Garvin Injury Law are committed to helping those who have suffered catastrophic or serious injuries obtain fair compensation for losses caused by reckless drivers, negligent boaters, careless property owners, abusive or neglectful caregivers and more.
Some of the cases we handle include:
Auto accidents;
Slip-and-fall accidents;
Boating accidents;
Motorcycle accidents;
Premises liability;
Medical malpractice;
Nursing home abuse / neglect / negligence;
Jet Ski accidents;
Wrongful death.
As a family-owned injury law firm serving Lehigh Acres for more than three decades, we have a proven track record of success in winning favorable outcomes for our clients. We are known for our aggressive negotiations with insurers and skilled performance in civil case trials and appeals.
Lehigh Acres Slip-and-Fall Injuries
Lee County reports many development plans are continuing in Lehigh Acres, including a growing number of commercial enterprises, such as retail stores, golf courses and restaurants.
When these businesses welcome members of the public, they owe customers the highest duty of care in making sure the site is in reasonably safe condition. Customers are owed a warning regarding any hazards about which the owner knows or should know. Failure to do so is a form of negligence called premises liability.
If you are injured in a slip-and-fall accident in Lehigh Acres, our personal injury lawyers will compare the facts of your case to the proof burden established in F.S. 768.0755. This statute requires plaintiffs (the injured parties) prove the defendants (party accused of negligence) had actual or constructive knowledge of a dangerous condition and should have acted to fix it or at least warn you about it.
Constructive knowledge can be proven with circumstantial evidence showing the condition existed for a time during which the business owner should have discovered it in the use of ordinary care OR the condition occurred with regularity and therefore was foreseeable.
Lehigh Acres Car Accident Injuries
Lehigh Acres is patrolled by the Lee County Sheriff's Office, which reports more than 5,020 car accidents and nearly 2,500 total injuries in a single year. The National Highway Traffic Safety Administration (NHTSA) reports motor vehicle accidents are the leading cause of death for young people, with most crashes caused by drivers who break the law or otherwise fail in their duty to use reasonable care. Often this is due to drunk driving, driver distraction, speeding, aggressive driving, inexperience or simple carelessness.
If you are injured in a Lehigh Acres car accident or other type of accident, our compassionate, experienced legal team can offer a free initial consultation to discuss your legal options.
Our Lehigh Acres personal injury lawyers will start by exploring your personal injury protection (PIP) insurance, as outlined in F.S. 627.736. As a no-fault car insurance state, Florida requires motorists to carry PIP, which covers up to $10,000 in medical bills and lost wages – no matter who was at-fault. It's not uncommon for insurance adjusters to haggle with clients over coverage. We handle that for you. In bad Lehigh Acres car accidents, insurers may agree to pay the coverage in its entirety, but your bid for compensation doesn't end there.
If you meet the criteria in F.S. 627.737, you can step outside Florida's no-fault system and pursue damages from the at-fault motorist and other liable third parties, such as vehicle manufacturers (vehicle manufacturers if a defective vehicle or part contributed to the crash or exacerbated your injuries), bars that served alcohol to an underage driver, trucking carriers or owners, employers whose workers were on-the-job and deemed negligent in their driving, or municipalities / road construction crews that failed follow safety protocol in roadway construction work zones.
The statutory threshold for pursuing the at-fault motorist for bodily injury liability coverage or wrongful death damages are:
Significant and permanent loss of an important bodily function;
Permanent injury within a reasonable degree of medical probability (aside from disfigurement / scarring);
Significant and permanent scarring or disfigurement;
Death.
Whether you a Southwest Florida resident, snowbird or a visiting tourist, if you are injured in Lehigh Acres due to someone else's negligence, our dedicated personal injury lawyers will fight to ensure you obtain maximum compensation for your losses.
Injury cases are accepted on a contingency fee basis, meaning you pay no attorney fees unless and until we win.
Contact The Garvin Injury Law personal injury attorneys in Lehigh Acres today at 239.277.0005 or online for a free case review.