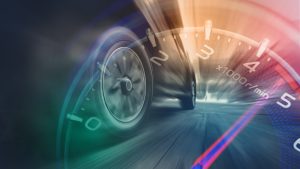 The National Highway Traffic Safety Administration recently tweeted that speeding-related car accident deaths are up all over the country – in some areas, as much as 15 percent. As the agency pointed out, the higher the speed, the worse the crash-related injuries. What is also relevant for those weighing South Florida car accident lawsuits is that high speed can factor significantly in crash liability.
According to the Insurance Institute for Highway Safety, speed is one of the most common – and dangerous driver behaviors – with an estimated 1/3 of all deadly crashes involving at least one speeding driver. Part of what makes speeding such a threat is that so many drivers consider it innocuous and make excuses for it. ("I was running late," "everyone else on the road is going 70+mph," "I'd be in more danger going slow than fast on Florida highways," etc.). In reality, speeding has dangerous consequences, among them being:
Reduced ability to maneuver around roadway obstructions or negotiate curves.
Longer time/distance needed to stop safely.
The distance a vehicle travels while speeding driver reacts to a hazard is increased, meaning there is greater potential for more injuries/people affected.
Increased risk for both crashes and injuries because neither drivers nor pedestrians can quickly and accurately assess a speeding vehicle's distance.
Car accidents killed more than 36,000 people nationally in 2019. As one analysis by ProPublica revealed, the risk of serious injury and death increases rapidly with each mile-per-hour increase. A person is 70 percent more likely to be killed if they are struck by a car traveling 30 mph compared to one traveling 25 mph.
Naples injury lawyers can explain, there is little question that excessive speed can be the basis of liability in South Florida car accident lawsuits. How big of a role it plays will depend on the underlying facts of the case.