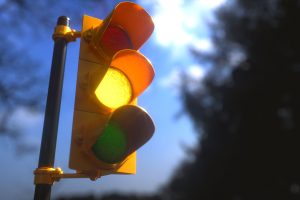 We all know red-lighting running is unequivocally illegal – not to mention incredibly dangerous. But what about Florida yellow light car accidents?
Determining fault in a yellow light crash can be more complicated than identifying negligence in a red light crash. That's because with yellow lights, the law allows room for driver discretion. When a traffic light is red, we all know that means stop. When it's green, we know that means go. But yellow is that brief in-between window where drivers have to decide whether they have enough time to safely proceed through the intersection before the light turns red or if they need to stop. Not all drivers are going to make the same call. And whether the call was reasonable may factor into the question of fault if someone is injured in a yellow light crash.
There are two basic approaches to traffic law on yellow light signals: Permissive yellow light law and restrictive yellow light law. It depends what state you're in. Permissive yellow light law allows a driver to enter the intersection at any point during the entire yellow light interval and be in the intersection/proceed through it when the light turns red, so long as they entered the intersection while the light was still yellow. A restrictive yellow light law is one wherein a vehicle can't enter the intersection if the light is yellow, unless the vehicle is able to clear the intersection before it turns red OR the vehicle can't enter an intersection with the light is yellow unless it's impossible or unsafe to stop.
As our Fort Myers car accident lawyers can explain, Florida has a permissive yellow light law.
All Florida traffic signal devices must use a yellow "caution" light between the green and red lights. F.S. 316.075 explains that with respect to a steady yellow light (as opposed to a flashing one):
Vehicle traffic facing the yellow light is considered warned that the green light is being terminated and the red indication – when vehicles should not enter the intersection – will be displayed immediately after.
Pedestrians facing a yellow light are advised there isn't enough time to cross the road before a red light is shown and no pedestrian should start to cross the road at that point.
With respect to flashing yellow lights at Florida intersections, these warn approaching drivers to proceed through the intersection with caution, yielding the right-of-way to vehicles that are already in or approaching the intersection first.
Types of Florida Yellow Light Car Accidents
So what goes wrong in Florida yellow light car accidents? There are a few common scenarios. These include:
Drivers who stop at an intersection upon approaching a yellow light are rear-ended by another driver who fails to stop.
A driver making a left turn at an intersection yellow light fails to yield the right-of-way to another driver traveling straight in the opposite direction.
A pedestrian is struck by a vehicle while making their way across the street at an intersection when the light is yellow – or just after it's turned red (assuming they didn't start to cross the street when the light was yellow, but rather the light turned yellow before they finished crossing the road).
A driver accelerates through a yellow light, trying to "beat" the red light, and in turn end up crashing into slowing or stopped traffic ahead, a pedestrian, or another vehicle coming from the opposite direction.
How Do Courts Determine Fault for Yellow Light Crashes?
A driver may or may not be liable for a crash at a yellow light. It all comes down to the fact pattern, and whether the driver's judgment was reasonable and justified based on the circumstances. Continue reading