Fort Myers Car Accident Lawyer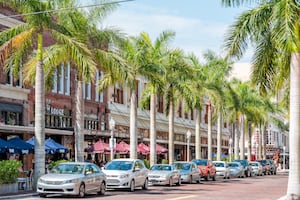 The booming economy and explosive growth of Southwest Florida has led to a safety crisis on the roads of Lee County.
Lee County is the 8th most populous county, holding 3.5% of Florida's population as of June 2020. About 150 of those residents will be killed in traffic collisions and thousands more will be seriously injured. While the area has dealt with exponential growth for decades, road safety reached a crisis point in the years after the Great Recession, as annual road deaths reached triple digits.
Our Fort Myers car accident attorneys know that most traffic collisions are caused by negligence on the part of one or more parties. Distracted driving, aggressive driving, failure to obey traffic safety laws, speeding and failure to yield or obey traffic-control devices are among the most common causes of a collision. Victims are entitled to compensation for property damage, lost wages, medical bills, rehabilitation and other economic and non-economic damages.
However, Florida's low mandatory minimum auto insurance coverage ($10,000 no-fault Personal Injury Protection and $10,000 property damage coverage,) makes identifying all liable parties with adequate insurance coverage the primary benefit of an early consultation with an experienced personal injury law firm in Fort Myers.
Recovering Damages after Fort Myers Traffic Collisions
Lee County had 100,000 residents at the dawn of 1970, while the population of the City of Fort Myers was just 27,000. Today, Lee County's population is approaching 800,000 and more than 82,000 call Fort Myers home.
Florida's minimum auto insurance law is the lowest in the nation. 1 in 4 Florida motorists are on the road without auto insurance; the highest rate of uninsured drivers in the United States, according to the Insurance Information Institute.
In some cases, victims of motor vehicle collisions are also confused by Florida's status as a no-fault state. While it is true, the $10,000 Personal Injury Protection benefits are paid without regard to fault in the immediate aftermath of a collision, victims of more serious collisions can and should pursue damages from an at-fault party.
An experienced car accident lawyer in Fort Myers should review your case as soon as possible after a collision as insurance lobbyists have successfully passed a measure that could reduce PIP benefits to just $2,500 if treatment is not sought in a timely fashion (within 14 days). Additionally, your law firm must carefully review the facts and circumstances of your collision to identify all responsible parties, review all percentages of fault, and the full extent of your injuries.
In some cases, an uninsured/underinsured motorist claim should be pursued against your own insurance carrier. Even in cases where motorists are found partially at fault, a damage claim may still be possible. Florida is a comparative fault state, and under F.S. 768.81, a victim determined to be partially at fault may still collect damages, although a damage award may be reduced by proportion of blame.
Fort Myers Car Accident Risks
As the county seat, many area residents commute to work in Fort Myers, more than tripling the city's population to 250,000 on weekdays. Annexed areas in East Fort Myers, including Treeline Avenue and Six Mile Cypress, continue to see construction of dozens of new communities, while older areas in Dunbar and along Palm Beach Boulevard deal with infrastructure issues, including lack of streetlights, sidewalks and marked crossings.
Thousands of tourists visit the area each year to enjoy Fort Myers Beach, Sanibel Island and the spring training homes of the Boston Red Sox and the Minnesota Twins.
Car accident claims handled by the Garvin Injury Law include:
Distracted driving claims

Intersection accidents

Drunk driving accidents

Trucking accidents

Commercial vehicle collisions

Hit-and-run accidents

Wrong-way collisions
While a traffic citation may be evidence of negligence, it is not necessary for an at-fault driver to be charged with a crime in order to be responsible for paying damages to victims. These are complex claims and are best handled by an experienced Fort Myers car accident lawyer who can identify all parties responsible, pursue damages from liable insurance companies, and determine the full extent of your losses, including present and future medical expenses, pain and suffering and other damages to which you may be entitled.
If you or a loved one is injured, call the Garvin Injury Law at 800.977.7017 for your free consultation.