Cape Coral Bicycle Accident Lawyer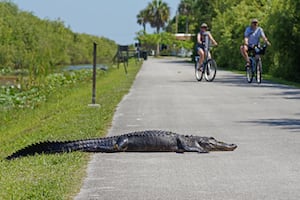 Cycling has become an increasingly popular pastime in Southwest Florida.
The Cape Coral bike system and Lee County bike trails are primary options. Spring training bike routes to Jet Blue Park and Lee County Sports Complex, as well as University Loop, Tour de Parks and the Sanibel Bike System, are also popular options.
Our bicycle accident lawyers in Cape Coral know the rise in popularity of cycling for both recreation and fitness has brought an increased risk of serious and fatal bicycle accidents.
Cape Coral's growing population of nearly 200,000 means city leaders continue to struggle with providing adequate infrastructure. Built or proposed bicycle routes will run the length of Pine Island Road, Veteran's Parkway and Diplomat Parkway; but demand continues to outpace safety improvements.
Cycling Injuries in Southwest Florida
Road Safe America has identified Cape Coral as one of the most dangerous areas in the nation for walkers, and cyclists face similar risks. An in-depth report by The News-Press revealed far too many motorist fail to respect the rights of cyclists, some even being outright aggressive around riders.
Florida leads the nation in the number of rider fatalities, with more than 100 rider deaths per year, according to the National Highway Traffic Safety Administration. Serious and fatal bicycle accidents in Southwest Florida have increased by more than 50 percent since 2010. Florida, California and Texas are the only states to report more than 50 rider deaths annually. Based on population, Florida is twice as risky as California and three times riskier than riding in Texas.
Three-quarters of fatal cycling accidents occur in urban areas. Most occur in daylight and along the roadside, rather than at intersections. Nearly all fatal collisions involve the front of a vehicle coming into contact with a rider.
Bicycle Injury Lawsuits
Cycling has grown particularly popular among middle-aged men. The average age of bicyclists killed in traffic collisions continues to increase and now stands at 46. More than 8 in 10 accident victims are men.
Consulting an experienced Cape Coral bicycle accident lawyer in the immediate aftermath can best preserve your legal rights. We know these incidents frequently result in very serious, debilitating injuries and often involve a family's primary wage earner. In many cases, Florida's mandatory minimum insurance of just $10,000 Personal Injury Protection will be nowhere near adequate to compensate a victim for losses. What's more, far too many of these collisions involve a hit-and-run driver who flees the scene and is never identified.
We strongly encourage all riders to carry uninsured motorist (UM)/underinsured motorist (UIM) coverage which will provide coverage in the event a driver lacks adequate insurance, does not have insurance, or flees the scene and is not identified. Like pursuing an injury claim against an at-fault driver, claims against your own insurance company are best handled by a Cape Coral personal injury or wrongful death law firm with substantial experience in litigating bicycle accident claims.
Distracted driving, aggression, and failure to recognize a rider's rights are among the most common causes of serious and fatal bicycle accidents in Southwest Florida. F.S. 316.083 requires motorists allow a rider at least three feet of distance when passing. This "3-foot rule" is in place to prevent riders from being broadsided or run off the road. Motorists should be aware many riders have taken to riding with helmet cameras, which can offer excellent protection and admissible evidence against aggressive or hit-and-run drivers.
If you or a loved one is injured, call the Garvin Injury Law at 800.977.7017 for your free consultation.