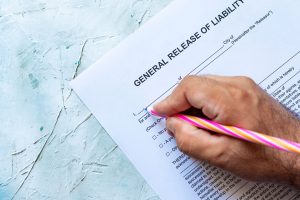 Florida is a vacation destination, and many find opportunities here to engage in activities for which businesses require you to sign a waiver, releasing them from liability if you get hurt. Such excursions include things like parasailing, boating, go-kart racing, trampoline park jumping, golf cart driving, and Jet Ski riding. But while waivers and releases are generally enforceable in Florida, your hope of winning a Florida injury lawsuit may not be entirely lost. If you or a loved one is seriously injured in an activity for which you signed a waiver, it's important to avoid any presumption that you don't have a case until you've had a chance to talk to a skilled personal injury lawyer.
The enforceability of a waiver often comes down to the precise language it contains compared to the exact details of what happened to cause your injuries.
A prime example of this was the 2014 non-precedential opinion of Florida's 5th District Court of Appeal in Gillette v. All Pro Sports, LLC. Here, a woman was injured in a go-kart accident at a facility operated by the defendant. The injured woman alleged an employee of the facility increased the speed of the go-karts during the race, resulting in her loss of control of the vehicle and subsequent crash into a railing that resulted in injuries. She sued for her injuries under the legal concept of negligence.
In its defense, the facility cited a waiver of liability that the woman had signed prior to getting on the go-kart. The trial court granted summary judgment favoring the defendant. The appellate court reversed meaning that she was allowed to sue and have her case move forward.
Firstly, any clause of a contract that aims to deny an injured party the right to recover damages from the party that negligently caused the injury is to be strictly construed against the party seeking to avoid liability. Secondly, if such clauses are to be enforceable, they must be blatantly clear and understandable so that any ordinary person would know exactly the rights they're foregoing by signing.
Here, the waiver indicated the user would: Continue reading