Florida Golf Cart Crash Lawyer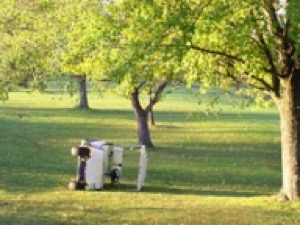 Golf carts are everywhere in Florida, which is somewhat unsurprising given that the Sunshine State is a golfer's paradise with more courses than any other state in the country. But they also commonly zip around gated communities, retirement neighborhoods, and even public streets throughout Fort Myers and Naples. You may spot them too at airports, hospitals, and sporting complexes.
Many residents and visitors utilize golf carts for convenient, short-distance transport and consider them safe since they travel at relatively low speeds. The surprising truth is how common Florida golf cart crashes are and how serious the resulting injuries can be.
At Garvin Injury Law, our Florida golf cart crash lawyers are committed to helping those affected obtain compensation for their injuries and losses.
Why Golf Carts are so Dangerous
There are several reasons golf carts can be especially dangerous. These include:
They are not designed with occupant safety as a top priority. They offer virtually no side protection. They can not brake as steadily as a car. They are susceptible to tipping. The steering column can be driven perilously into the driver's chest or head (compared to passenger cars, which have had collapsible steering columns for years). Many are also not equipped with seat belts.
There is an erroneous public perception that they are perfectly safe, leading people to feel emboldened to speed or operate them despite being inexperienced, impaired, or distracted.
They can legally be operated in Florida by individuals as young as 14, and no license is required.
Motor vehicle operators and even pedestrians often are not sufficiently prepared to react to them. S. 316.212 prohibits them from being driven on most public roads, streets, or sidewalks (with a few exceptions). Some communities in Fort Myers and Naples do allow them by local ordinance. Still, many people drive them on roads where they legally should not, leading motorists to be caught off-guard.
Golf cart accidents tend to be the most dangerous when they collide with automobiles, tip over, or strike pedestrians. The U.S. Consumer Product Safety Commission reports that some 13,000 golf cart accident injuries require emergency department treatment every year. Some catastrophic and fatal golf cart injuries in Florida in recent years include:
A 17-year-old girl in Davie died in 2019 after being ejected in a golf cart rollover accident on an I-75 overpass.
Two teens, ages 13 and 14, were airlifted by helicopter with major injuries (a third was treated for minor injuries) after the 14-year-old operator flipped the cart in Weston in 2020. The passengers were ejected while the operator was pinned underneath.
A 72-year-old golf cart operator in the Villages suffered serious head injuries in 2020 after reportedly driving into the path of a sedan driven by another resident on a roundabout.
A 79-year-old man in the Villages died in 2020 when his golf cart collided with an SUV.
A fifth grader reportedly suffered permanent injuries when she was struck by a school district employee operating a golf cart in Tallahassee in 2019.
A 6-year-old girl killed in a Lakeland golf cart accident in 2004.
Although the young and elderly are overrepresented in the crash statistics, our Florida injury lawyers urge people of all ages to seriously understand the importance of taking golf cart safety. Recognize too that those hurt may have several legal options.
Florida Golf Cart Accident Liability
Many of the same types of negligence claims made in car accident cases can be applied in golf cart accident cases. Distraction, impairment, carelessness, and inexperience are commonly cited.
Potential defendants in these cases include:
The operator.
The owner.
The manufacturer.
Motor vehicle operators (in the event of a collision).
The owner/manager of the property on which the crash occurred (premises liability).
Way back in the 1920s, the Florida Supreme Court deemed cars a "dangerous instrumentality," meaning they are considered inherently hazardous or possessing the potential to harm people through careless use. In 1984, the Florida Supreme Court in Meister v. Fisher imparted the same designation to golf carts. That means that a golf cart owner can be liable for its negligent operation – even if he/she was not driving or personally negligent. An owner who grants permission for another to operate their golf cart can be held legally responsible by extension.
Golf cart manufacturers can also be held liable under a theory of product liability if there is evidence a design or manufacturing flaw rendered the vehicle unreasonably safe.
Landowners may be liable if the crash occurred on private property, such as a golf course or country club, and evidence shows some feature of the property was unsafe.
Employers could be held vicariously liable for accidents/injuries caused by their employees acting negligently in the course/scope of employment.
This is not an exhaustive list. It is important to consult with a Florida golf cart crash lawyer about your legal options if you are hurt. The first meeting is free, and you pay no attorney's fees unless/until we win. Typically, the Florida statute of limitations is four years for personal injury claims and two years for wrongful death claims.
Contact The Garvin Injury Law Florida golf cart crash lawyers today at 239.277.0005 or online for a free case review.