Fort Myers Jet Ski Accidents Lawyer
Florida Personal Watercraft Accident Lawyer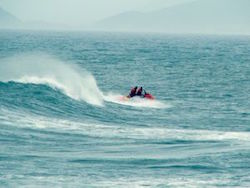 Waverunners, Jet Skis, Sea-Doos, and other personal watercraft, are immensely popular in Fort Myers and Southwest Florida's coastline. Jet Ski rentals are a common offering for tourists, and many permanent residents have their own vessels. There is a popular saying that, "It's impossible to be sad on a Jet Ski." They are, of course, great fun; however, our Fort Myers jet ski accident lawyers know that the truth is these craft can also be extremely dangerous.
The Florida Fish & Wildlife Conservation Commission (FWC) reports Lee County has one of the highest personal watercraft accident rates in the state – ranking at No. 5 with a rate of 1 crash for every 704 registered personal watercraft vessels. There are nearly 5,000 registered personal watercraft vessels in the county and 118,000 statewide. Personal watercraft account for 13 percent of all vessels in Florida, with Monroe, Miami-Dade, Pinellas, and Palm Beach leading the pack.
At Garvin Injury Law, our personal injury attorneys represent victims of personal watercraft accidents in Fort Myers, Naples, and the Florida Keys (including Key West). While many of these cases focus on accountability from the negligent PWC operator, in many instances, this is not the only responsible party. A jet ski accident lawyer at our Fort Myers firm can help you determine whom to sue. Other defendants may include:
The PWC rental company. Although waivers of liability that are often signed prior to a rental can complicate a Jet Ski injury claim, they will not always foreclose on it. That is because businesses cannot insulate themselves from liability for gross negligence, as defined in F.S. 768.72. Gross negligence is conduct that is so reckless or wanting in care, that it constitutes a conscious disregard or indifference to the life, safety or rights of those exposed to it. Examples might be allowing rentals during unsafe weather conditions, failing to maintain equipment, or renting to operators who are underage or clearly intoxicated. Even if there is no evidence of gross negligence, we may still be able to challenge the validity of the liability waiver.
The PWC manufacturer or distributor. These would be product liability claims that would allege the Jet Ski, Waverunner, or other PWC was defectively-designed or manufactured or lacked adequate warning instructions. For example, several PWC makers have been held liable for failure to warn of the potential for serious internal injuries caused by contact with a blast of high-pressure water from the jet thrust propulsion system. The most well-known PWC manufacturers are Kawasaki (Jet-Ski), Bombardier (Sea-Doo), Yamaha (Waverunner), and Polaris.
Private PWC owner. If the owner of the vessel is someone different than the operator, they may be liable for injuries sustained on that vessel.
Our Fort Myers jet ski accident attorneys can help you identify all possible avenues of recovery following a personal watercraft accident.
Florida Watercraft Accidents: Personal Injury & Wrongful Death
Many PWC accidents resulted in very serious injuries and even death. Lacerations, broken bones, head injuries, and back injuries were among the leading injuries reported.
The most common types of Florida Jet Ski accidents, as outlined by the FWC, include:
Collision with a vessel;
Collision with a fixed object;
Fall on PWC;
Fall overboard;
Grounding and;
Capsizing.
More than half of these accidents involve a personal watercraft that is either rented or borrowed.
While rental units account for only 2 percent of the personal watercraft on the water, they account for 40 percent of accidents. Nearly half of those injurious accidents involved an operator who had less than 10 hours of experience. Another 61 percent of operators in these cases had no boater education.
The primary causes of personal watercraft accidents were:
Operator inexperience;
No proper look-out / inattention;
Carelessness / recklessness;
Excessive speed;
Sharp turn;
Alcohol use;
Equipment failure.
Rental agencies (most often located in areas like Captiva, Sanibel, Marco Island, Fort Myers Beach, and Key West) must ensure their equipment is free from defects, properly maintained, and in good working order. Users must be properly trained, not under the influence of alcohol or drugs, and of a proper age to operate the equipment safely. State statistics show that 30 percent of serious and fatal accidents are reported in accidents involving riders under the age of 21. Manufacturers, sellers, rental companies, and private owners of PWCs have a responsibility to end-users, and it is important they be held accountable when they fall short.
Because personal watercraft injuries are often so severe, it is important to discuss all potential legal avenues with a personal injury lawyer you trust.
Contact the Garvin Injury Law jet ski accident attorneys in Fort Myers, Florida, today at 239.277.0005, or online for a free case review.