Employer Liability for Florida Distracted Driving Accidents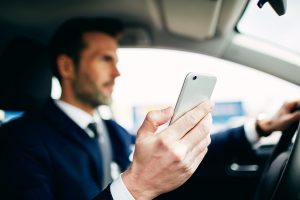 Employers of motorists who cause crashes while distracted by work obligations may be liable to cover the damages of those injured. Florida distracted driving accidents are on the rise. AAA reports distracted drivers caused the deaths of 3,142 people in the U.S. in a single recent year, an uptick of 10 percent from the year before. In this Florida alone, 258 people died that year as a result of crashes caused by drivers who were distracted. That figure is likely underreported given that not all types of distractions are easily identifiable.
April is Distracted Driving Awareness Month, and traffic safety experts have expressed concern about the still-rising number of crashes, placing significant blame on drivers who aren't paying attention. "Cognitive overload" after participating in back-to-back videoconferencing, along with atrophied driving skills during the pandemic, was cited by several researchers in a recent NBC News report.
It should be noted that F.S. 316.305 prohibits drivers from operating a vehicle while texting, emailing, reading data, instant messaging, etc. for non-voice communication purposes.
Cognitive distractions after a work-related video conferencing may be a very real problem for drivers, but the question in terms of potential legal liability for the employer will be whether the driver was acting in the course and scope of employment at the time of the collision.
Why Employers Could be Responsible for Florida Distracted Driving Accidents
A legal doctrine known as respondeat superior makes employers legally responsible under certain circumstances for the actions of negligent employees who cause injury to someone else. In the past, with regard to crashes, this mostly meant suing the employers of professional drivers (truckers, taxi drivers, delivery drivers, etc.) or workers who were running job-related errands or traveling between two job sites.
Today though, expanding technology means that more workers are conducting business – acting in the course and scope of employment – while they are driving. That could be an in-vehicle video conference, responding to a work-related text, taking a client call, firing off a work-related e-mail, etc. Such actions can be deadly. Still, it doesn't guarantee the employer will be legally responsible for Florida distracted driving accidents, particularly if the company has a policy against such behaviors. It does, however, increase the odds. That's why it's important to talk to a car accident lawyer as soon as possible after a crash. We can help gather key evidence that could be time-sensitive and critical to proving your claim against the company.
Florida courts will look at numerous factors when considering the scope of an employer's liability for a crash. An employer of someone who is driving a work vehicle – even if off-duty – could be liable for the crash. Engaging in work-related calls, texts or Zoom meetings could also be a cause for a finding of vicarious liability.
As Fort Myers injury lawyers, we can request cell phone records be subpoenaed to determine who the driver was texting/talking to at the time of the crash. We'll also look at the nature of the business, whether it had some sort of policy to curb distracted driving and if that policy was enforced. We'll also examine whether employers provided any training to employees whose jobs required driving and whether they were vetted for having a safe driving record. Vicarious liability under respondeat superior doesn't require proving the employer itself was negligent, but if there are grounds for asserting the company's negligence was also a contributing factor to the crash, those are worth exploring.
Florida distracted driving accidents can cause serious, lifelong injuries or even death. Our legal team will aggressively pursue full compensation for those harmed by the careless acts of other drivers and their employers.
If you are injured in Fort Myers, Naples or Key West, contact our injury attorneys at Garvin Injury Law at 800.977.7017 for a free initial consultation.
Additional Resources:
'Zoom zombies' are zoning out behind the wheel after video calls, auto safety experts warn, April 7, 2021, By Paul A. Eisenstein, NBC News
More Blog Entries:
Holding Bad Drivers Accountable in Florida Pedestrian Accidents, April 7, 2021, Fort Myers Car Accident Attorney Blog