Southwest Florida Car Accident Risk Rises With Road Construction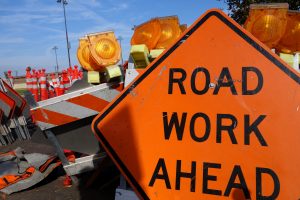 The recent emergency closure of a major national east-west thoroughfare (the I-40 Mississippi River Bridge in Tennessee) due to a critical crack in a bridge beam has drawn attention to the $2.3 trillion infrastructure package proposed by the White House for road renovations nationally. Florida, which was given a C grade for overall infrastructure, has more than 400 bridges and 3,560 miles of highway considered to be in "poor condition." Although strengthening of infrastructure makes us safer in the long-haul, road construction could well increase Southwest Florida car accident risk in the short-term.
Florida Road Construction Projects
Florida has seen exponential growth in recent years, placing increased burdens on our roadways and traffic infrastructure. The Cape Coral-Fort Myers metro area in Lee County has been among the fastest-growing regions in the country.
Last year, at the direction of Gov. Ron DeSantis, the Florida DOT (FDOT) accelerated $2.1 billion in critical transportation infrastructure projects during the COVID-19 pandemic. These included the Howard Frankland Bridge project in the Tampa Bay area, a widening of S.R. 80 in Palm Beach County, the highway Design Build Project in Miami-Dade and the Sand Lake Road project in a heavily-tourist area of Orlando.
A study released earlier this year revealed I-4 between Tampa and Daytona is the deadliest highway in the U.S. – Currently, FDOT reports that various road construction improvements are underway.
In Fort Myers, FDOT broke ground in January on the $52.7 million Diverging Diamond Interchange Project. It starts at Colonial Boulevard and I-75, widening the highway and adding an auxiliary lane in each direction from Colonial to MLK Boulevard, with emergency stopping sites at each exit. The goal is to ease traffic flow and improve safety, particularly in the event Lee County requires an emergency evacuation (such as during a hurricane). However, the concern in the meantime is that this stretch of I-75 exits could become dangerous during construction.
Why Road Construction Areas are High-Risk for Crashes
As car accident attorneys in Fort Myers, we have long recognized that active road construction zones can substantially up the potential for a crash. The Sunshine State does not have a great track record either, reporting the second-highest number of deadly road construction collisions in the country.
Drivers are expected to exercise reasonable caution at all times behind the wheel. When workers are present in a road construction zone, F.S. 316.003 imposes more stringent speed limits, passing limitations and yield requirements. Yet drivers too often ignore these. FDOT reports the top two causes of road construction accidents in Florida are speed and distracted driving.
Workers in construction zones can also be at risk. The Industrial Safety & Hygiene News reports nearly 800 work zone deaths every year.
Negligent construction workers can also be the cause of collisions in work zones, particularly if they fail to:
Post adequate warning signs far enough in advance.
Pay proper attention (and be properly trained) when directing traffic.
Ensure heavy machinery is operated safely.
Make sure that all traffic lanes are cleared of all tools, vehicles and debris during after-hours.
Common car accidents in road construction zones include road departures, rear-end collisions and tractor-trailer accidents. There is also a greater risk of a pile-up due to fewer lanes and drivers leaving less assured clear distance from the vehicle ahead of them.
Potential defendants in a road construction accident may include other drivers, construction companies and possibly a government agency. If you are injured in a Florida road construction zone accident, it is imperative to speak with an experienced personal injury attorney who can immediately begin an independent investigation and work to ensure you are compensated fairly.
If you are injured in Fort Myers, Naples or Key West, contact our injury attorneys at Garvin Injury Law at 800.977.7017 for a free initial consultation.
Additional Resources:
White House assessment gives Florida's infrastructure a 'C' grade, April 12, 2021, By John Haughey, The Center Square
More Blog Entries:
Speeding Driver Liability in Southwest Florida Car Accident Lawsuits, Jan. 21, 2021, Fort Myers Car Accident Lawyer Blog