Holding Bad Drivers Accountable in Florida Pedestrian Accidents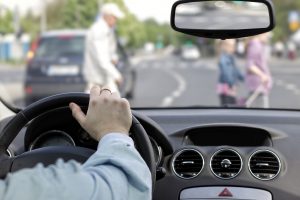 Walking in Florida can be hazardous for your health. According to Smart Growth America's 2021 Dangerous by Design report, the Sunshine State is the deadliest in the nation for pedestrians. Of the 15 most dangerous cities for pedestrians in the U.S., 9 are in Florida. The Cape Coral-Fort Myers metro area ranked No. 11.
Between 2010 and 2019, more than 17 pedestrians a day, on average, were struck and killed by U.S. drivers. That is more than 53,000 total lives lost, and it is getting worse, not better. The number of fatal pedestrian accidents spiked 45 percent in that time frame. Understanding why is critical to curbing the incidence rate. So too, is holding negligent drivers accountable.
Our Fort Myers pedestrian accident lawyers are committed to advocating for safer roads and aiding crash victims in collecting damages – whether via insurer negotiations or pursuing claims in court. While many people use the term "sue" in these kinds of cases, the reality is most Florida pedestrian crash claims are settled without litigation. This means we can often secure compensation while also sparing you the time, emotional energy, and financial resources of a trial. Still, it is important to know at the outset that your personal injury attorney is one who can be trusted to successfully prepare your case for civil trial if need be – especially if your injuries are serious.
Why Florida is So Dangerous for Pedestrians
Florida, for years, has consistently ranked among the most dangerous places for pedestrians. Like many places in the country, we continue to prioritize the design and operation of streets to maximize motor vehicle speed and rapid traffic flow – at the expense of every other road user (including those on foot, bikes, or using mass transit). The goal continues to be speed rather than safety.
At especially high risk are:
The elderly.
Those of Black and Native American descent.
People walking in low-income communities.
Too many South Florida communities have far apart or missing crosswalks, broad traffic lanes, and intersections that are tough to cross on foot safely. Installing a sidewalk may be considered too expensive, but there is always cash in the coffers to widen a road.
Another factor is the growing popularity – and size – of the cars we are driving. According to the National Highway Traffic Safety Administration, pickup trucks, and sports utility vehicles (SUVs) are 2-3 times more likely to kill someone on foot than a passenger car. Pedestrians do not have seatbelts, airbags, or the benefit of a protective metal shell. There is nothing to cushion the blow.
Florida is not especially unique with its prioritization of wider streets for faster cars. Still, sprawling growth patterns over the last 60 years have led to most of our traffic infrastructure being designed this way instead of older communities that already had established growth and infrastructure.
Nearly 6,000 people have died in Florida pedestrian accidents over the last decade. Factor in population and that is twice the national average.
While some expected that the coronavirus pandemic might result in a lull in pedestrian accidents, it seems the opposite may be true. The National Safety Council estimates that when the final numbers are in for 2020 traffic deaths, we will see a 25 percent overall increase. Explained traffic engineers, decreases in congestion seem to embolden drivers to go even faster. Speed exacerbates the risk of serious pedestrian injury and death in a crash. The likelihood of someone surviving a pedestrian crash begins to fall dramatically past the 30-mph threshold.
Driver Accountability for Florida Pedestrian Crashes
Pedestrian accidents pose a unique accountability challenge in Florida because of the no-fault auto insurance structure. Therefore, it is imperative to work with an experienced traffic injury lawyer.
As a no-fault state, Florida requires all motor vehicle owners to purchase personal injury protection (or PIP) when they register their vehicles. If you are in a crash, PIP covers a portion of your medical bills and lost wages – up to $10,000 – plus offers a $5,000 death benefit regardless of who was at fault in the crash. It is only if your injuries are severe that you can step outside of the no-fault system and pursue damages against an at-fault driver.
The main issue is pedestrians are not required to secure PIP. If they have this type of coverage because of a vehicle they own, they can use it – even though they were not in their car. If the pedestrian does not own a car but lives with a relative who does, they may file a claim with that insurer. If neither of those are true, the PIP insurer of the driver who struck them should provide PIP. However, non-Florida residents may not have the benefit of this coverage.
Health insurance should cover a portion of these medical bills. However, suppose the driver was at-fault for striking the pedestrian (as is very often the case). In that case, the driver can be held responsible for these costs, as well as damages for lost wages, pain and suffering, emotional suffering, loss of life enjoyment, loss of consortium, and wrongful death.
If the at-fault driver did not have insurance, you could pursue compensation from your uninsured/underinsured motorist (UM/UIM) insurance carrier. You might also pursue a claim against the vehicle owner (if different from the driver) as cars are considered dangerous instrumentalities, and owners are liable for their negligent operation, even if they were not the one driving.
It should be noted that proving fault is essential to pursuing claims beyond PIP against the at-fault driver. Often, insurers will allege YOU were at fault or partially at fault. Florida follows a system of pure contributory negligence state. That means that even if you were 99 percent at fault for the crash, you could still collect on that 1 percent of damages. (Of course, you would want to avoid this scenario because it would not mean very much in the way of compensation, but it is an advantage over many other states with more stringent plaintiff fault rules.)
Pedestrian accident deaths and injuries are preventable. When they occur, our experienced legal team will work tirelessly to help you secure the damages you are owed.
If you are injured in Fort Myers, Naples or Key West, contact our injury attorneys at Garvin Injury Law at 800.977.7017 for a free initial consultation.