Understanding the Basics of Catastrophic Injury Claims in Florida Injury Lawsuits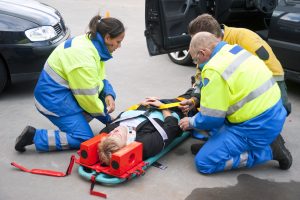 Some people think they must suffer catastrophic injuries to recover damages in a Florida injury lawsuit. That is not always true. What is true is that when catastrophic injuries are involved, winning full and fair compensation can actually be an even greater challenge. In you have sustained life-changing injuries, it is highly recommended that you sign nothing until you at least consult with an injury lawyer. After that, you can then decide if you feel comfortable handling the claim alone or if you'd prefer a trial attorney's help.
We know for a fact that no insurer is eager to pay the full sum of what is rightly owed in these cases.
As our Naples personal injury attorneys can explain, catastrophic injury claims (which typically involve severe damage to the spine (back), spinal cord, brain, or other extremities) are actually more common these days than they were even two or three decades ago. This is mostly because of the evolution of modern medicine. As noted by insurance industry research: "Medical advances are helping first responders better stabilize accident victims at a scene… Many who used to die are now living. … Advances in medicine (have also) significantly reduced complications that arise from catastrophic injury claims. This means longer life expectancies."
That is all good news, but it still does not change the fact that survivors often suffer some permanent functional disability. Often, it prevents them from returning to work (at least in the same capacity). It fundamentally alters their personal relationships. It can require lifelong treatment and care giving needs. It can forever close certain doors of opportunity and life enjoyment. These are not minor effects.  And while no amount of money is going to give someone back the life they had, when someone else's negligence causes the injuries, those affected have the right to be compensated for that – and to hold the responsible parties accountable.
What Defines Catastrophic Injuries in Florida?
There is not a straightforward definition of "catastrophic injury" in Florida's personal injury law. F.S. 440.15, part of the state's workers' compensation code, considers a catastrophic work injury to be one that involves permanent and total disability. One can be presumed permanently and totally disabled for the purposes of benefits if they have certain types of injuries (closed head injuries, second- or third-degree burns on more than a quarter of your body, total or industrial blindness, spinal cord injuries resulting in paralysis of an arm, leg or the trunk, amputation of a hand, arm, foot or leg, etc.).
In general, we consider catastrophic injuries to be those that cause at least one of the following:
Severe and permanent functional disability.
Incapacitation.
A short period of intense pain and suffering, followed by death.
Serious impact on at least one of the person's major body systems.
Severe damage to the head, neck, back, or spinal cord.
Amputation.
Severe burns resulting in significant scarring (particularly about the face and hands).
Numerous bone fractures.
Internal injuries.
The inability to perform any gainful work for which you are qualified.
Types of accidents commonly associated with catastrophic injuries in Florida include:
How Our Naples Injury Lawyers Help Clients Win These Cases
Although no attorney can promise a specific outcome one way or another, our team has the benefit of decades of success in Florida catastrophic injury cases. These include six-figure and multi-million-dollar verdicts and settlements. Although every claim is different, we know how to thoroughly investigate these cases, consult and contract with expert witnesses, identify all possible defendants, accurately evaluate damages, negotiate with insurers and, if necessary, take the case to trial.
Cases involving catastrophic injury are not the ones you want to simply wrap quickly to be done with it – not when the impact can be lifelong.  That is not to say there are not ways of expediting the process (we know our clients in these situations are struggling financially).  But insurers often defend these cases vigorously, so it truly requires a legal team that knows what they are doing and has proven time and again the ability to deliver. Plus, you do not pay attorney's fees unless and until you win.
If you are injured in Fort Myers, Naples, or Key West, contact our injury attorneys at The Garvin Firm at 800.977.7017 for a free initial consultation.
Additional Resources:
Taking the temperature of evolving trends in catastrophic workers' comp cases, Jan. 9, 2019, By Alicja Grzadkowska, Insurance Business America
More Blog Entries:
Factors That Can Affect Your Naples Personal Injury Lawsuit, June 25, 2020, Naples Personal Injury Lawyer Blog