Fort Myers Neck & Back Injury Lawyer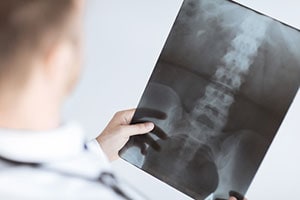 A spinal cord injury involves damage to any portion of the spinal cord or nerves at the end of the spinal canal, sometimes resulting in permanent loss of strength, feeling or other body functions below the injury site.
At Garvin Injury Law, our team of experienced Fort Myers spine injury lawyers will steadfastly fight for maximum compensation for spine injury victims, whose lives have often been irrevocably altered by someone else's wrongdoing.
Although spinal injuries are not as common as many other types of injuries, the losses of those who have suffered a spinal cord injury are often profound, broadly affecting one's physical, mental, emotional, and social health. Research has established the most common causes of spinal cord injury include:
Car accidents – 32 percent
Falls – 25 percent
Gunshot wounds – 10 percent
Motorcycle accidents – 7 percent
Diving Accidents – 5 percent
Medical / surgical complications – 4 percent
These mostly involve a sudden, traumatic blow to the spine that fractures, dislocates, crushes, or compresses one or more vertebrae. Actual damage can occur immediately, or over the course of days or weeks, like bleeding, swelling, inflammation, and fluid accumulation occur in and around the spinal cord.
Lifetime costs for spinal cord injuries and related secondary conditions are staggering, posing a substantial financial burden not just on the individual but also on their families.
That is why the spine injury lawyers at our Fort Myers firm remain firmly committed to offering the best legal services for spinal cord injury victims in South Florida.
Spinal Cord Injury Facts
The National Spinal Cord Injury Statistical Center reports there are 17,000 new cases of spinal cord injury a year. It is a leading cause of paralysis – both complete and incomplete.
Complete paralysis involves the loss of all ability to feel or control movement below the injury. An incomplete injury may allow for varying degrees of sensory and motor function below the affected area.
Spinal cord injuries of any kind may result in:
Loss of movement;
Altered sensation (including the ability to feel cold, heat, and touch);
Loss of bladder or bowel control;
Spasms or exaggerated reflexes;
Alterations in sexual function and sensitivity;
Difficulty breathing or clearing lung secretions;
Pain, caused by nerve damage.
Sufferers may have a difficult time gaining employment (just 1 in 6 were employed post-injury, despite 1 in 4 being college-educated), roughly 30 percent are re-hospitalized once or more in any given year following the injury (with an average length of 22 days), and life expectancies remain significantly below those without spinal cord injuries (with average years of life remaining not improving much since the 1980s).
If these injuries were the result of someone else's negligence, the spine injury attorneys at our Fort Myers firm, with more than 40 years of experience, will fight to help you secure maximum compensation for your losses.
Legal Rights After a Spinal Injury
Your top priority after a catastrophic injury such as a spinal cord injury is immediate medical attention. As soon as possible thereafter, you or your representative should consult with an injury attorney.
We can help explore whether your injury was the result of some type of negligence or a failure of another person or business to fulfill their legal duty of care. Some examples of this might include:
A hotel that failed to clearly paint depth markers on a pool;
A driver that failed to operate their vehicle in a reasonably safe manner, resulting in a crash;
A nightclub that failed to provide adequate security, resulting in a violent act that caused your injury;
A retail store that did not promptly address a slip-and-fall hazard;
A nursing home that failed to provide adequate staffing, putting the patient at risk for a fall;
A construction site owner who failed to ensure the site was reasonably free of fall risks;
A doctor or caregiver who failed to provide an acceptable level of medical care;
A trucking company that failed to properly vet its drivers or ensure its vehicles were properly maintained, increasing the risk of a crash;
A school or sports team that failed to ensure players had proper protection from game-related injuries.
In most cases, spinal cord injuries are the result of preventable causes. Our South Florida spinal cord injury attorneys will examine whether your claim falls into this category, help you identify all possible defendants, and pursue the maximum amount of damages available.
Prompt action is necessary given Florida's statute of limitations. F.S. 95.11 allows up to four years for filing personal injury lawsuits, though we generally do not recommend waiting that long. Medical malpractice and wrongful death lawsuits must be filed within two years.
We offer free initial consultations, as well as legal services on a contingency fee basis, meaning you pay no attorney's fees unless and until we win.
Contact the Fort Myers spine injury attorneys at Garvin Injury Law today at 239.277.0005 or online for a free case review.