Fort Myers Construction Accidents Lawyer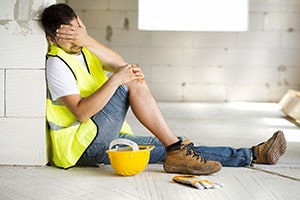 Although injuries can potentially occur on any job, construction sites are widely recognized as especially dangerous. Fort Myers construction injury attorneys at Garvin Injury Law know workers hurt in the course and scope of employment almost always have the right to collect no-fault workers' compensation insurance. They may also have a right to file third-party liability claims entitling them to additional money.
Although workers' compensation is paid regardless of fault, that does not mean injured workers will not spar with construction company employers or workers' compensation insurers for fair coverage of wage losses and reasonable medical expenses.
Third-party liability claims can also be complicated, though they are often worthwhile pursuits if someone other than an employer or co-worker was responsible for the accident because damage awards go over and above what one can receive in workers' compensation.
The U.S. Bureau of Labor Statistics reports private construction as an industry had the highest number of work-related fatalities in Florida. Specialty trade contracting accounted for about 80 percent of these deaths. The most dangerous construction site accidents in Florida have included:
Transportation incidents (with roadway accidents accounting for 20 percent of worker deaths)
Falls, slips, and trips
Exposure to electricity / electrocution
Struck by object or equipment
In the construction industry, these are widely referenced as "the fatal four." In recent years, Florida's fatal construction accident rate has been on the rise, despite a decline in such incidents nationally, according to the Bureau of Labor Statistics.
South Florida construction injury claims should only be handled by an experienced Fort Myers construction accident lawyer.
Construction Companies Legally Obligated to Maintain Safe Working Conditions
All employers are broadly required by law to keep work areas reasonably safe. Construction sites, however, are so dangerous that there are very specific safety requirements. First, there are federal government regulations as outlined by the Occupational Safety and Health Administration (OSHA), and there are also detailed state rules indicated in Chapter 533 of Florida Statutes.
Violation of any of these standards can result in government fines and penalties. Workers' compensation should be paid in accordance with Chapter 440 of Florida Statutes, and it is not necessary to prove fault by the company in order to collect benefits. As indicated in F.S. 440.11, the state's "exclusive remedy" provision of workers' compensation law, employees are not allowed to sue their employer for negligence resulting in a work injury.
Workers' compensation benefits for a construction site injury may include:
Medical Benefits - This would be compensation for things like emergency room care, diagnostic imaging tests and scans, surgery, hospitalization, medication, prosthetics, assistive devices, and ongoing rehabilitation and therapy.

Lost Wage Benefits - If your work injury causes you to lose more than seven days of work, you have the right under Florida workers' compensation laws to file a claim for lost wage benefits. In most instances, you can collect two-thirds of what you earned before the construction accident. Those with critical injuries may receive up to 80 percent of their average weekly earnings for up to six months, though the state imposes a cap on the amount you can be paid. There are both temporary and permanent disability benefits as well as total and partial, depending on the extent of the injury and when/if your doctor reasons you can return to work or have reached maximum medical improvement (the point at which your condition is not expected to further improve).

Death Benefits - Dependent surviving family members of those who die from a work-related injury or illness can collect workers' compensation death benefits following a Fort Myers construction accident, capped at $7,500 for funeral expenses and $150,000 in wage benefits.
Violations of F.S. 533, the state's construction site safety standards, by an entity who is not the employer of the injured worker could be grounds for third-party liability claims.
Third-Party Liability Lawsuits for Florida Construction Injuries
Some examples of grounds for third-party liability in a Florida construction site accident may include:
Not meeting a state or federal safety standard or widely accepted industry guideline

Not adequately supervising potentially hazardous construction site duties

Not inspecting or maintaining construction site tools, equipment or work areas

Not following appropriate safety measures to keep unauthorized workers or individuals out of hazardous areas

Not providing proper safety equipment such as reflective vests, protective gloves or hard hats or necessary fall arrest systems and harnesses
Third-party liability can also be asserted where a party is generally negligent. For example, if a motorist negligently strikes a road worker while speeding in a road construction zone or rear-ends a construction vehicle while a worker is moving materials from one job site to another, he or she could also be pursued for a third-party liability action.
Note that if you do collect third-party liability compensation, you may collect over and above what you receive for workers' compensation (i.e., full wage losses plus compensation for losses like pain and suffering, mental and emotional anguish and loss of consortium). However, you cannot collect twice for the same loss. For example, if your workers' compensation coverage paid for your medical bills and you receive compensation for those same medical bills in a third-party liability verdict or settlement, the workers' compensation insurer would retain subrogation rights to recover benefits it already paid.
Our experienced Fort Myers construction accident attorneys can help you determine your legal rights and best legal course of action after a sudden construction site death or serious construction site injury.
Contact Our Fort Myers Construction Accident Lawyers
Call or email Garvin Injury Law today for your free consultation and we will evaluate your Fort Myers construction accident claim and determine the appropriate course of action. We have been handling Lee County workers' compensation, injury, and wrongful death cases in Florida for over 30 years.