Understanding Florida's Careless Driving Statute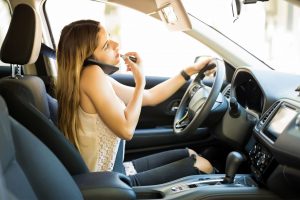 Drivers who cause South Florida car accidents rarely intend to hurt anyone. However, Florida's careless driving statute does not consider a driver's intention. What matters is whether the driver was using reasonable regard for the laws and current road conditions. Failure to use reasonable care, the basic allegation in a careless driving traffic case, is also what injury lawyers assert when alleging negligence in many Florida crash cases. As our Fort Myers car accident lawyers can explain, a driver who is negligent failed to use reasonable care. They can be held legally liable to cover some – or all – of the resulting damages (assuming the injuries were serious enough to exceed the criteria set forth in F.S. 627.737).
The National Highway Traffic Safety Administration (NHTSA) estimates some 95 percent of crashes are caused by human error. Florida's careless driving statute is outlined in F.S. 316.1925. It states anyone operating a vehicle on any street or highway in Florida, "shall drive … in a careful and prudent manner, having regard for the width, grade, curves, corners, traffic and all other attendant circumstances, so as to not endanger the life, limb, or property of any person." Failure to do so is careless driving.
Careless driving is frequently cited in cases like rear-end car accidents and failure-to-yield crashes. It's also sometimes cited by officers in distraction cases, though if they can specifically prove it, they may assert a violation of F.S. 316.305, Florida's distracted driving law. This provision bans not only texting while driving, but also emailing, instant messaging, and other forms of nonvoice interpersonal communication behind the wheel.
Allegations of careless driving may cross the threshold into "aggressive careless driving," as defined in F.S. 316.1923, if two or more traffic violations occur at the same time or one right after the other.
Some examples of applicable violations:
Speeding (exceeding the speed limit or traveling too fast to be safe under the conditions).
Improperly or unsafely switching lanes.
Following too closely behind another vehicle.
Failure to yield the right-of-way to another vehicle.
Improperly passing another vehicle.
Violating traffic control signals or devices (i.e., running a red light or stop sign).
Aggressive driving may cross the threshold into "reckless driving" if one can show a person was acting purposefully with intentional indifference to the consequences of their dangerous actions. That still does not mean you need to prove someone intended to cause a crash. What it means, as explained in F.S. 316.192, is that the driver was operating the vehicle in a manner that displayed willful or wanton disregard for the safety of other people or their property. Reckless driving would include things like:
Weaving in and out of traffic while speeding.
Drag racing on the highway.
Fleeing law enforcement (particularly at high speed).
Break-checking other vehicles on the highway.
Florida's Careless Driving Statute Ticket Isn't – On Its Own – Enough to Win Your Case
It's worth noting that if the other driver is cited for violation of Florida's careless driving statute or any other provisions of law, it may help your case – but it's not necessarily a done deal. That's because the traffic citation and your injury claim are two separate processes.
Florida car accident injury claims are initially handled by each respective driver's own personal injury protection (PIP) insurer, thanks to the state's unique, no-fault system. That should provide coverage of up to $10,000 in medical bills and a portion of lost wages if you need time off work. If your injuries are more severe, then you can step outside that no-fault system to file a claim with the other driver's insurer (or other responsible parties) for damages.
Elements of the police investigation – including the officer's testimony itself – can be used as evidence to establish your civil injury claim. However, that doesn't automatically mean the claim will be approved. That will be up to the insurer in question. If the injuries involved are very serious (or fatal) or if the insurer refuses to deal with you fairly, you'd be wise to get a good personal injury lawyer on the case.
Even if you're dealing with your own insurer, they may question whether you too were partially to blame (comparative fault, as explained in F.S. 768.81). Or they may dispute the stated value of your claim. This is where having an experienced SWFL injury lawyer can really help. We understand the factors necessary to establish your right to compensation in a crash caused by another's careless driving in South Florida. Damages to which you may be entitled include medical expenses (including past and future doctor visits, medications, physical therapy, home care, transportation, surgery, etc.), lost wages, pain and suffering and emotional/mental distress.
Injury attorneys in Florida accept car accident claims on a contingency fee basis, meaning you do not pay attorney fees upfront – or unless you win.
If you are injured in Fort Myers, Cape Coral, Naples, Nort Port, Sarasota or Key West, contact Garvin Injury Law at 800.977.7017 for a free initial consultation.
Additional Resources:
F.S. 316.1925, Florida's Careless Driving Statute
More Blog Entries:
How Florida Motorcycle Accident Liability is Determined, Dec. 1, 2021, Fort Myers Car Accident Lawyer Blog