Report: Car Accident Injury Risks Higher for Women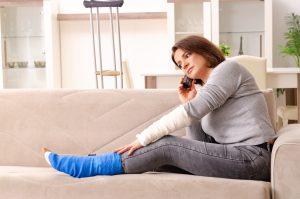 A new analysis from the Insurance Institute for Highway Safety indicates that car accident injury risks are higher for women than men, though the reason appears to have little to do with physical differences. Rather, it comes down to the types of vehicles women tend to drive compared to men.
As our Fort Myers car accident injury lawyers know, men have long been known to be overrepresented in fatal crashes. Research suggests this is because men on average drive more miles and often engage in riskier driving behaviors (speeding, impaired driving and foregoing seat belts, etc.). But once IIHS researchers controlled for speed and other factors, they found women on a per-crash basis were nearly 30 percent more likely to be killed and 37-73 percent more likely to suffer serious injuries.
They concluded this had to do largely with the types of motor vehicles women tend to drive. Once study authors limited comparison to similar crashes and vehicle types, the gender discrepancies mostly disappeared. Women are more likely to drive cars that are smaller and lighter. They're also more likely than men to be driving the vehicle that is struck in front-to-rear and side-impact crashes. These types of crashes can result in more severe injuries.
Curiously, they did discover an unexplained phenomenon of women being especially prone to serious leg injuries compared to men, something researchers said "will require more investigation."
This gender disparity in injury risk has renewed calls for scientists to replace current crash test dummies with those that would better reflect how the force of a collision impacts a woman's body in particular. Crashes aren't biased when it comes to victims, but it is true that variations in one's height, weight and body proportion could possibly affect the outcome of a crash's impact.
In this study, scientists looked at injuries among women and men in police-reported front and side crashes from 1998 through 2005. What they found was:
Women were three times as likely to suffer moderate injuries (concussions, broken bones, etc.) in front crashes.
Women were twice as likely to suffer serious injuries (traumatic brain injury, collapsed lung, etc.) in front crashes.
Women were about 50 percent more likely to suffer a serious injury in side crashes.
Men and women had mostly equal odds of suffering a moderate injury in a side impact crash.
To figure out how much of this difference was because of physical gender differences, study authors repeated their analysis with a smaller set of compatible crashes (either single-vehicle crashes or two-vehicle crashes wherein the vehicles were of similar size/weight and where front airbag deployment occurred). This reduced the differences in car accident injury risk.
Vehicle choice is being touted as a top theory for these differences. All people crash in minivans and SUVs in roughly equal proportions, but 70 percent of women who crashed did so in cars (compared to 60 percent of men), while more than 20 percent of men who crashed did so in trucks (compared to less than 5 percent of women). It's well-established physics that heavier vehicles are going to provide greater protection.
Another possible factor is that in two-vehicle front-to-rear and front-to-side collisions, men were more likely to be driving the striking vehicle (as opposed to the vehicle that was struck). Drivers in the striking vehicle typically suffer a lower car accident injury risk than those in the vehicle that was struck.
Further analysis showed crashes involving vehicles with good IIHS safety ratings were involved in fewer collisions with injurious outcomes.
Our Fort Myers injury lawyers are firm believers that everyone on the road deserves to be optimally protected as they travel. Our hope is research like this gets us closer to that reality. Crash victims may be entitled to compensation for medical bills, lost wages, disability, pain and suffering, loss of consortium and more.
If you are injured in Fort Myers, Naples, Sarasota, Port Charlotte or Key West, contact our injury attorneys at Garvin Injury Law at 800.977.7017 for a free initial consultation.
Additional Resources:
Vehicle choice, crash differences help explain greater injury risks for women, Feb. 11, 2021, IIHS
More Blog Entries:
Speeding Driver Liability in South Florida Car Accident Lawsuits, Jan. 21, 2021, Garvin Injury Law Blog