How Florida Motorcycle Accident Liability is Determined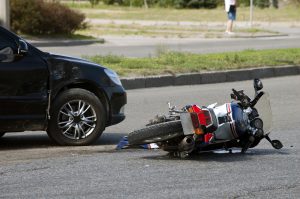 Nobody sets out for a ride anticipating a Florida motorcycle accident. But when it happens, it's important to proceed cautiously to protect your legal rights.
Pursuing a claim for motorcycle injuries is slightly different than doing so in other types of crashes. That's partly because injuries are likely to be more serious than the average crash. It's also because motorcyclists in Florida are not required to purchase PIP (personal injury protection) coverage, the foundation of the state's no-fault accident system. To ensure fair financial recovery, it's important to talk to an injury attorney experienced in motorcycle injury cases.
By their very nature, motorcycles are less stable, less visible and less crash-worthy than passenger cars – despite their high-performance capabilities. When motorcyclists crash, they lack the protection of an enclosed vehicle, so they're far more likely to be seriously injured or killed. Per vehicle miles traveled, motorcycle deaths are 27 times higher than car deaths.
No PIP in a Florida Motorcycle Accident Case
To receive compensation for a Florida motorcycle accident injury, it will be necessary for your Fort Myers motorcycle injury lawyer to help you determine who was at-fault. "Fault" is established by proving the operator/driver in question failed to use reasonable care when they had a duty to do so, in turn causing your injuries.
Unlike motorists who drive cars or trucks, motorcycle operators aren't included in F.S. 627.736, which is Florida's no-fault PIP insurance law. No-fault insurance typically covers up to $10,000 in medical bills and lost wages, without requiring a determination of fault. A person's own PIP insurance typically covers the insured and passengers. (You can be covered by PIP coverage you carry, even if you weren't driving.) But motorcyclists and their passengers may not have access to this option.
One upside of this is that unlike those involved in car or truck accidents caused by another's negligence is that motorcycle operators and riders don't have to show serious or permanent injury in order to pursue pain and suffering, as they would normally need to under F.S. 627.737. This is referred to as the tort or permanency threshold which does not apply to motorcyclists meaning that they do not have to prove a "permanent injury within a reasonable medical probability" which is required to obtain monies for pain and suffering in a motor vehicle crash.
Still, injured motorcyclists may have a difficult time obtaining coverage for the full extent of their injuries because the state also doesn't require most drivers to carry a minimum amount of bodily injury insurance coverage. This is coverage that would compensate others for the personal injuries caused to someone else by the insured. That said, a fair number of drivers do carry policy limits in excess of what the law requires.
About a quarter of drivers in Florida aren't insured at all. In this case, a Florida motorcyclist or passenger may also obtain coverage from their own uninsured/underinsured motorist (UM/UIM) plan. Depending on the language in your un/under-insured motorist coverage you carrier may require you to have purchased "stacking" coverage in order for this UM/UIM coverage to cover you if you are injured while on your motorcycle. In both cases, fault will still need to be established.
The good news is that even if you were partially at-fault, you can still collect damages.
Comparative Fault in Florida Crashes
Florida follows a system known as pure comparative fault, and courts will take into account the totality of the circumstances. That means acts like speeding, running red lights or operating a vehicle under the influence can be used as clear evidence of fault, but they don't guarantee the other person is 100 percent to blame – or that you don't share some of the fault.
Luckily, with pure comparative fault, you can still collect damages even if you were mostly to blame. Courts assign percentages of fault. So if you were 40 percent to blame and the other driver 60 percent, you can still collect on 60 percent of your damages. Of course, that doesn't mean you should accept the defense's word on fault percentage. Your personal injury attorney can help you push back on claims of comparative fault and fight for all of the damages you're owed.
If you were the operator of a single-vehicle motorcycle accident, you may be covered by your own health insurance. Alternatively, you may be able to collect UM/UIM compensation if you can prove another driver caused the crash, even if they didn't actually collide with you and/or you weren't able to identify them. Passengers in motorcycle accidents can pursue damages under their own PIP plans (if they have them) and/or from the operator's insurance or their own UM/UIM coverage.
Our injury attorneys look at the specific facts and help you determine both the viability and potential value of your case, as well as how best to proceed to ensure just compensation.
If you are injured in Fort Myers, Naples, Port Charlotte, Sarasota, or Key West, contact Garvin Injury Law at 800.977.7017 for a free initial consultation.
Additional Resources:
Facts + Statistics: Motorcycle crashes, Insurance Information Institute
More Blog Entries:
Do I Have to Wear a Motorcycle Helmet? Florida Cycle Injury Lawyer Insight, Dec. 3, 2020, Fort Myers Motorcycle Injury Lawyer Blog