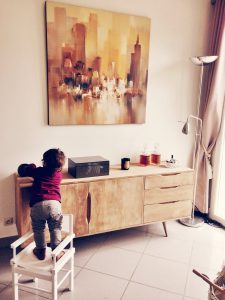 Home furnishings retailer Ikea has recalled 820,000 chests due to the risk of furniture tip-overs that could endanger young children. The IKEA Kullen dressers have been sold nationwide, and the danger is that if they tip over, they can crush kids. According to the Ikea recall notice, the three-drawer version of these chests is unstable if not anchored to a wall and they were not in compliance with voluntary performance standards. Consumers are advised to stop using them immediately and can receive either a repair kit or a refund.
Every year, thousands of children are treated in emergency rooms because of furniture tip-overs – dressers, chests, bookshelves, cabinets, desks, television stands, and televisions being particularly deadly. Consumer Reports indicates that since 2000, there have been more than 200 deaths, almost all of them younger than 6. Young children often are not able to think about or react to danger to themselves. They cannot consider the consequences of climbing up or down a piece of furniture, and they are not fast enough to react to one falling on them or strong enough to lift it off themselves if they are trapped.
Federal public health officials report 40 children every day are injured in furniture tip-overs.
This recall is the seventh involving chest and drawers for tip-over risks – since September.  Continue reading