Risk of Child Injury, Death Due to Furniture Tip-Overs Spurs Recalls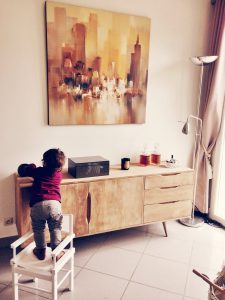 Home furnishings retailer Ikea has recalled 820,000 chests due to the risk of furniture tip-overs that could endanger young children. The IKEA Kullen dressers have been sold nationwide, and the danger is that if they tip over, they can crush kids. According to the Ikea recall notice, the three-drawer version of these chests is unstable if not anchored to a wall and they were not in compliance with voluntary performance standards. Consumers are advised to stop using them immediately and can receive either a repair kit or a refund.
Every year, thousands of children are treated in emergency rooms because of furniture tip-overs – dressers, chests, bookshelves, cabinets, desks, television stands, and televisions being particularly deadly. Consumer Reports indicates that since 2000, there have been more than 200 deaths, almost all of them younger than 6. Young children often are not able to think about or react to danger to themselves. They cannot consider the consequences of climbing up or down a piece of furniture, and they are not fast enough to react to one falling on them or strong enough to lift it off themselves if they are trapped.
Federal public health officials report 40 children every day are injured in furniture tip-overs.
This recall is the seventh involving chest and drawers for tip-over risks – since September. 
Ikea reportedly received six reports of furniture tip-overs involving these dressers. The recall announcement comes just a couple months after the same company agreed to a $46 million product liability lawsuit settlement to the parents of a toddler killed three years ago when another model of dresser fell on the little girl. Her death in 2017 prompted a recall of 17.3 million Ikea Malm chests and drawers.
Most injuries resulting from furniture-tip overs occur when the furniture is not secured/anchored to the wall or floor. Anchoring these furniture items is still touted as being the best preventative measure, but these products are not well-known and can be tough to find. In a survey of more than 1,500 adults, only about 25 percent had anchored their furniture. Plus as the executive director of Kids in Danger noted, anchoring furniture can be a complicated procedure. There is specialized hardware that goes by several names, is somewhat difficult to explain, and requires some skill to attach items to a stud in the way. This explains why a lot of parents and caregivers do not do it. Further, furniture tip-overs are the kind of incidents nobody thinks will happen to their child – until it does.
In the opinion of our Fort Myers product liability lawyers, the best way to prevent furniture tip-overs would be for the furniture industry to start producing safer, more stable products. The director of product safety at Consumer Reports agrees, saying that while anchoring is an action that consumers can take, it is not believed to be a sustainable, long-term solution to a systemic problem.
Furniture manufacturers operate under something called a voluntary stability standard. That means there is a generally-accepted standard for how stable furniture can be, but manufacturers do not have to follow it. Even then, only dressers that are higher than 30 inches are covered by that standard. The IKEA Kullen dresser is 23 3/8 inches tall.
Claims for damages in these cases can be filed against furniture designers, manufacturers, retailers, and anyone else in the supply chain.
If you or a loved one are injured in the greater South Florida area, contact our injury attorneys at The Garvin Firm at 800.977.7017 for a free initial consultation.
Additional Resources:
Dangerous Ikea dressers recalled over risk of crashing onto children, March 4, 2020, By Tricia L. Nadolny, USA Today
More Blog Entries:
Why Does a Florida Injury Lawyer Work on a Contingency Fee Basis? Oct. 23, 2019, Fort Myers Injury Lawyer Blog