Naples Injury Lawyer Insight: Compulsory Medical Exams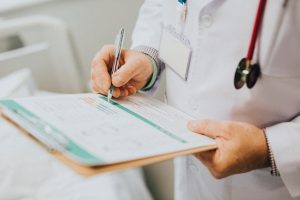 Most people who file damage claims for personal injuries from a car accident, slip-and-fall or some other incident won't have to worry about the prospect of a compulsory medical exam. As a Naples injury lawyer can tell you though, this changes if you actually file a lawsuit.
A compulsory medical exam (sometimes referred to as a "CME") is a medical examination of a plaintiff or defendant in a personal injury lawsuit at the request of the other party (usually of the plaintiff at the request of the defense). Per Rule 1.360 of the Florida Rules of Civil Procedure, parties to personal injury lawsuits have the right to request an examination when "the condition of the subject in question is in controversy." In other words, the other party is asserting doubt about whether the injury in question is as severe as one claims. An "independent" doctor is called upon to conduct their own medical exam and put forth their conclusions.
We put the word "independent" in quotations because the choice of medical examiner typically rests with the requesting party, who must establish to the court that they have "good cause" for the request.
The reason most injury claimants needn't worry about this is because most Florida personal injury claims are resolved in settlement negotiations – without the need for a lawsuit or long before a trial begins. But even if your case does not ultimately go to trial, preparing for one may require you to undergo a CME. An experienced Naples injury lawyer can tell you what to expect and what you need to know.
CMEs Are Requested When Defendant Doesn't Accept Plaintiff's Claim at Face Value
Requests for a compulsory medical exam arise when defendants do not accept the plaintiff's claim at face value. They may think you are lying about or exaggerating the severity of your injuries, or they may seek to establish that there was some other, unrelated catalyst.
For the defense, a CME is a way to cast doubt on the veracity or value of your claim for damages. State rules of procedure do limit the scope of these examinations to conditions that are "in controversy." In other words, the exam can only focus on the condition directly at issue in the case.
The doctor conducting the CME will also probably want to review your medical records, as well as the crash report and any other relevant expert reports. In conclusion, the CME physician will draft a report containing his/her opinion of your injuries and the cause.
Although the court must approve a request for a CME, they are rarely denied. However, as the U.S. Supreme Court held in U.S. Security Insurance Co. v. Cimino, that the plaintiff's attorney or a court reporter is permitted to be present at the exam with a videographer. This is based on the understanding that the relationship between the parties is adversarial, and that the physician is essentially an expert witness for the opposing side. There are other limitations such as the length of time as well as limiting the questions that may be asked which we routinely fight for on behalf of our injured clients.
Naples Injury Lawyer Tips for Clients Undergoing a CME
Although the prospect of a CME is stressful for many people, there are ways a Naples injury lawyer can help you prepare. Some may be case-specific, but in general:
Don't lie or exaggerate. The defense will be looking for any reason to discredit your testimony and thus your claim. Dishonesty during a CME can adversely affect the entirety of your claim.
Do not sign anything without your attorney's prior approval. Remember, you have the right to have your attorney present at the exam.
Make sure you know the details of what will occur in the exam. You have the right to know the scope of what will take place. If the plan is to have you undergo anything that is experimental or overly invasive, your attorney has the right to object and the basis of relevancy, your health or privacy.
You should consider see your own physician the same day you have the CME (or at least in close proximity). This can help ensure a complete, fair picture of your condition and counterbalance any discrediting testimony the CME doctor may provide.
Keep your demeanor polite but serious. Don't crack jokes or make small talk. Keep in mind that although this person is a doctor, he/she is not YOUR doctor, and they are working on behalf of the insurance company. Do not allow the CME doctor to put words into your mouth.
If your attorney isn't present with you during the CME, get in touch with him/her right after. Do this while it's fresh in your mind so your attorney can glean useful information. If the exam is recorded your attorney may view this at a later date and discuss what was seen with you.
We understand the anxiety that a CME can bring, but we are committed to walking you through every step of the process and serving as your advocate.
If you are injured in Fort Myers, Naples or Key West, contact our injury attorneys at Garvin Injury Law at 800.977.7017 for a free initial consultation.
Additional Resources:
GUIDELINES FOR COUNSEL REGARDING COMPULSORY MEDICAL EXAMINATIONS CONDUCTED PURSUANT TO FLA. R. CIV. P. 1.360(a)(1)(A) & IF ORDERED (B), AS WELL AS 1.360(b) AND 1.390(b) & (c), Ninth Judicial Circuit Court of Florida
More Blog Entries:
Florida PIP: Is It Still Possible to Collect From the At-Fault Driver?, Oct. 21, 2020, Naples Injury Lawyer Blog