Injured on South Florida Vacation – Where Do I Hire an Injury Attorney?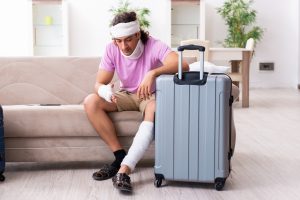 Millions of people every year seek a sunny respite in South Florida, visiting places like Miami, Key West, Naples, Sarasota, and Fort Myers. While Florida is as safe as any other state in many respects, there are some higher risk areas on the roads, at some resorts and, of course, in the waters. Although you might purchase insurance on flights or hotel stays, those usually only cover losses from delays, cancellations, or theft. If you're seriously hurt while on vacation in South Florida, you will need to work with a local injury attorney who can handle your claim for damages.
As a Fort Myers tourist injury attorney, I help people from all over obtain financial compensation for the injuries they sustained here on vacation due to someone else's negligence.
Some examples of South Florida tourist injuries in recent months:
Just recently, a woman and her adult son from South Carolina were killed in a Florida crash when the car they were in collided with a flat-bed tractor-trailer at an intersection that had an inoperative traffic light, according to the AP. The adult son's wife and two young children, who were also in the vehicle, were injured but survived.
Earlier this year, a tourist from Mexico was seriously injured in a Naples hit-and-run car accident while she was bicycling. She was badly hurt, and returned to Mexico for treatment of her injuries. Although police initially closed the case for lack of evidence, an injury lawyer she hired obtained additional evidence (surveillance video from a nearby business) that resulted in law enforcement re-opening the investigation.
Last year, an Indiana couple filed a $100 million Florida injury lawsuit against a boat operator who was allegedly drunk when he caused a South Florida boating accident resulting in the woman suffering a serious, lifelong traumatic brain injury.
Accidents that occur while you're on vacation in Florida can lead to serious injuries. In addition to crashes, bicycle accidents and boating injuries, tourist injuries can stem from:
Swimming pool accidents.
Amusement park accidents.
Hotel injuries.
Parasailing injuries.
Festival and concert injuries.
Trade show and convention injuries.
Sexual assaults and other violent attacks.
There are several things you can do immediately after an incident (if you're able) to preserve your chances of recovering full financial compensation for your losses. These include:
Seeking immediate medical attention.
Reporting the incident to local police and/or premises owner/manager.
Documenting the scene with photos/videos.
Collecting witness information (names, phone numbers, addresses of people who saw what happened).
Seeking legal representation.
If you're not able to do these things, it doesn't mean you don't have a case. It does mean you'd be wise to seek legal counsel as soon as possible.
Benefits of a Local South Florida Injury Attorney
There are a few reasons it's a good idea to first contact an injury attorney from the area where the injury occurred, rather than your home state.
Vacation-related injuries can be particularly complex because of jurisdiction and venue. These are issues that concern where your personal injury claim can be filed. A court must have jurisdiction over both you and the person who was allegedly negligent in order to be the appropriate venue to hear and decide your case. In some cases, there may be more than one court with possible jurisdiction. You may be able to file the case in which the negligent person resides, where an allegedly negligent company does business and/or where the accident occurred.
If you're injured in South Florida, it's important to speak with a lawyer who will understand the jurisdictional complexities and help you make an informed decision about how to proceed.
If the proper jurisdiction is the local community where the accident occurred, it will be important that the injury lawyer you hire be properly certified to practice law in Florida. Generally, if you're injured in Florida, it's much easier to work with a Florida-certified attorney, even if you're from another state or country. Even if a lawyer from your home state is technically able to handle your case, they'll likely need to clear several hurdles and they're going to be less familiar with the specifics of state and local laws and procedures.
As a longtime Key West injury attorney, I have easier access to local expert witnesses, as well as convenient office locations for less travel/easier communication. From here, we can quickly initiate a thorough investigation. That includes visiting the scene, talking to local businesses that may have obtained footage of what happened and getting in touch with local witnesses. We're also more familiar with local roads, accident prone areas, the local cost for things like medical treatment and repairs.
We'll work to help clients understand whether they have a valid claim, provide an accurate valuation of that potential claim, explain the legal processes and options available and take over management of the stress and difficulty of investigating what happened, collecting supporting evidence and managing legal filings. We will aggressively advocate on your behalf for a full and fair settlement or verdict.
If you're injured in South Florida and are unsure of your next step, our initial consultations are free.
If you are injured in Fort Myers, Naples, Sarasota, or Key West, contact Garvin Injury Law at 800.977.7017 for a free initial consultation.
Additional Resources:
South Carolina woman, son killed in Florida traffic crash, June 4, 2021, Associated Press
More Blog Entries:
Florida Negligent Security Lawsuits Filed Against Fort Myers Beach Resort, Aug. 3, 2021, South Florida Tourist Injury Lawyer Blog