Fort Myers Tourist Injuries Lawyer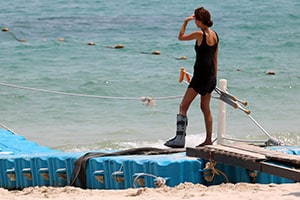 Florida tourist injuries are a far-too-frequent occurrence in the Sunshine State. The fact that we have more out-of-town visitors than other locations does not mean such injuries are inevitable. It means far too many people are failing to exercise a reasonable degree of care required in a variety of roles – from hotel management to retail store oversight to motor vehicle operation.
The Fort Myers injury lawyers at Garvin Injury Law are committed to assisting injured tourists and surviving loved ones with injury and wrongful death claims. We recognize there are certain logistical and technical challenges that arise when one is hurt while visiting Florida from another city, state, or country, and we are prepared to help you navigate the process. In some cases, we may be able to help you avoid return trips for depositions, court appearances, etc.
More than 115 million people visit Florida every year, according to state tourism records. Tourism in Florida supports some 1.4 million jobs and provides billions of dollars to an array of industries statewide, from theme parks to hotels to restaurants and charter boat tours. Anytime these businesses invite guests on-site for the purpose of bolstering their own profits, they owe those "invitees" the highest duty of care under Florida's premises liability laws. That means they have a duty to keep the site free of any unreasonable risks of injuries, routinely inspect the site for dangerous conditions and warn visitors if any hazards exist that might not be obvious.
In the experience of our injury attorneys in Southwest Florida, of the most common Florida tourist injuries reported include:
Traffic accidents
Swimming pool accidents, including drowning, slip-and-fall, and diving injuries
Amusement park injuries
Busing accidents (including airport shuttles and hotel/ resort shuttles)
Parking lot injuries (including trip-and-falls, vehicle back-overs, and pedestrian accidents)
Boating accidents
Cruise ship injuries and charter boat injuries
Parasailing injuries
Personal watercraft injuries (including injuries on Jet Skis, Waverunners, and Sea-Doo's)
Festival and concert injuries
Trade show and convention injuries
Sexual assault and other violent attacks
Generally, claims for compensation of such injuries fall into one of a few categories. Those can include general negligence, such as what our injury lawyers would file in claims for motor vehicle accidents. Then there are premises liability claims. These would include everything from a slip-and-fall at an outlet store (with special rules in certain cases as outlined by F.S. 768.0755) to swimming pool accident to a violent attack against which a hotel, resort, cruise line or other property owner failed to protect guests - despite the danger being reasonably foreseeable.
There could also be product liability litigation, which could include claims against manufacturers of dangerous products, like amusement park rides or personal watercraft devices. For example, there were several successful personal watercraft product liability claims by Florida tourists who suffered internal injuries due to unexpected water thrust out of the rear nozzle when passengers fell off the back of the craft. Plaintiffs prevailed on claims of design defects, manufacturing defects and failure to warn.
Liability Waivers in Florida Tourism Injuries – Are They Enforceable?
Numerous Florida injuries arise from certain activities that might be considered inherently dangerous in and of themselves or for which participants are asked to sign a waiver.
If an activity is considered inherently dangerous, a defendant may invoke the "assumption of risk doctrine," which limits liability in cases where a plaintiff knew the risk of an activity that in and of itself is dangerous and knowledgeably and willfully assumed that risk. Florida only allows the assumption of risk doctrine to be applied to certain situations, like skydiving or contact sports, where those involved are fully aware there's a risk of injury.
However, as our Fort Myers injury attorneys can explain, the doctrine can also apply if you sign a waiver of liability. These are contracts participants sign agreeing not to sue. In order to be enforced, however, these waivers must expressly spell out the potential danger, and defendants cannot have been grossly negligent, defined in F.S. 768.72(2)(b) as conduct so reckless or wanting in care that it constitutes a conscious disregard or indifference to the life, safety or rights of a person exposed to such conduct.
Waivers involving children warrant special attention. Florida Supreme Court in 2008 ruled in Kiron v. Fields about the enforceability of liability waivers signed by parents on behalf of minors in a commercial context (in a for-profit recreational activity, such as rock-climbing). Florida has since addressed the issue via F.S. 744.301(3).
Still, in order to be enforced, liability waivers must unambiguously demonstrate the clear and understandable intention that it is to relieve the individual/entity from liability. If you are injured in a Florida tourist accident, contact our experienced Fort Myers injury lawyers for advice on your legal options.
Contact Our Fort Myers Tourist Accident Lawyers
Call or email Garvin Injury Law today for your free consultation and we will evaluate your Fort Myers injury claim and determine the appropriate course of action. We have been handling Lee County injury and wrongful death cases in Florida for over 30 years.