Can Both Drivers Be At-Fault in a Fort Myers Car Accident?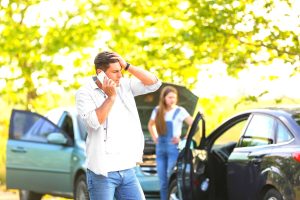 Every single day, there are an average of 1,050 Florida car accidents, according to the Florida Department Highway Safety and Motor Vehicles. Almost always, the cause(s) of a crash can be traced to driver error. Common Fort Myers car accident catalysts include things like speeding, failure to yield, improper turning, following too closely, driving carelessly or recklessly, disregarding traffic signs or signals, failure to maintain proper lane, and driving while distracted or impaired.
But what if both drivers were at-fault in a crash?
As longtime Fort Myers car accident lawyers, we know it's fairly common that both drivers shoulder some degree of responsibility for the collision. But what truly influences the dollar amount outcome in a Florida car accident case is not so much whether the injured plaintiff (the person filing the claim) shares any blame at all, but rather: How much?
This is because Florida follows a system of pure comparative negligence (referred to in F.S. 768.81 as comparative fault).
What is Pure Comparative Fault – and Why Does it Matter in Fort Myers Car Accident Cases?
Pure comparative fault means that in any negligence action – including car crash claims – the at-fault parties are only responsible to pay for their own portion of the blame. So in a two-car crash with both parties sharing some measure of fault, the damage award (legalese for financial compensation aka money) that is available to the plaintiff will be proportionally reduced by how much of the blame they share.
For example, if Driver 1 was 30 percent at-fault, Driver 2 was 70 percent at-fault, and total damages topped $100,000, the most that Driver 1 could collect as a Florida plaintiff would be $70,000. Conversely, the most Driver 2 could collect as a plaintiff would be $30,000.
"Pure comparative fault" means that even a person who is 99 percent at-fault for a Fort Myers car accident could still collect on 1 percent of their total damages from the other at-fault driver. That said, collecting only 1 percent of damages (ex: $1,000 on a $100,000 claim) isn't a desirable outcome for any plaintiff. Skilled South Florida injury lawyers know how to make effective legal arguments to help minimize assertions of comparative fault – with the end goal of maximizing your damage award payout.
It should be noted that Florida is in the minority of states for its pure comparative fault law. Most other states with comparative fault laws impose a 50 percent or 51 percent "bar." That means each person or entity is only financially responsible to cover their own percentage of fault. BUT if the plaintiff is 50+ percent to blame, they will be barred from collecting anything at all. Some states take it even further, holding that if a plaintiff shares just 1 percent of fault, they are barred from collecting anything at all.
So Florida is actually one of the most plaintiff-favorable states in this regard. However, that doesn't mean your car accident case will be easy or that you should cede much ground on this issue if you can help it.
Wait – Isn't Florida a No-Fault Car Accident State?
Florida IS a no-fault state when it comes to car accidents. However, that term is a bit deceptive because fault still matters, at least for serious crashes with injuries.
The idea behind no-fault car insurance is that each driver should carry their own personal injury protection (PIP) coverage. This policy will cover injuries and damages by the policyholder and other insureds – regardless of who caused the crash.
But here's the thing: In Florida, PIP only covers a maximum $10,000 in damages. Furthermore, it doesn't cover motorcyclists and may not extend to other vulnerable road users like bicyclists and pedestrians. So if someone is injured in a Fort Myers car accident – with injuries that meet or exceed the "serious injury threshold" as outlined in F.S. 627.737(2) – they can step outside that no-fault system and pursue a claim against the at-fault driver. And because of the state's comparative negligence statute, they can do so even if they're partly responsible for what happened.
How is Fault Decided in a Florida Car Accident?
Fault in a Florida car accident is not as cut-and-dried as many presume. There is a lot of space for speculation and subjectivity. The police investigation may reach one conclusion about fault, while insurers conduct their own investigation and reach their own conclusions – which may be entirely different from law enforcement. But neither of those necessarily has the last word on fault.
Where there is dispute about these findings, the case may go to court. Information about the crash gleaned by police and insurance agents may be used as evidence, but their conclusions about fault may differ from that of the court's. The injury attorney you hire is responsible for gathering their own evidence and effectively presenting it to the court to argue for a favorable outcome. How well the lawyer does their job can play a significant role in how your case plays out.
(Note: It may not be necessary to file a lawsuit if your attorney can successfully negotiate a fair outcome directly with your insurer. However, when cases do go to court, it's often over the issue of comparative fault.)
If you suspect you might be partially at-fault in a Fort Myers car accident, it's wise to refrain from making any statements about that fact or speculations on what you think might have happened to anyone – the other driver, witnesses, police, the insurance company – before first speaking to a lawyer. To do otherwise is to run the risk of inadvertently admitting to liability. Even something as simple as a blanket apology at the scene can be construed as an admission of fault that could ultimately be used to try to prove comparative fault and reduce or deny your claim for damages.
If you are injured in Fort Myers, Port Charlotte, Sarasota, Cape Coral, Naples, or Key West, contact Garvin Injury Law at 800.977.7017 for a free consultation.
Additional Resources:
Involved in a Crash? Florida Insurance Requirements, FLHSMV
More Blog Entries:
Fort Myers Injury Lawyer Tips for Talking to Insurance Adjusters, Sept. 21, 2022, Fort Myers Car Accident Attorney Blog