Florida Roadway Hazards After a Major Hurricane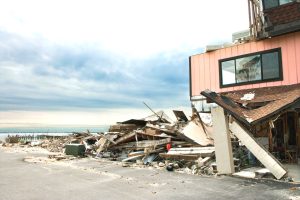 Southwest Florida is still reeling from the unprecedented devastation of Hurricane Ian, a huge storm with near-Category 5 winds and storm surges that reached 12-18 feet in some areas of Lee County.
At Garvin Injury Law, we are lifelong Floridians and while we have lived through many previous storms this one was particularly tough. Along with the rest of the community, our hearts are broken at the loss of life and the sheer scope of damage and displacement. As we all grieve what's been lost, begin to clear the rubble, and prepare for our next steps, we want to make sure folks are aware that there are still a number of ongoing roadway hazards after a hurricane. Motorists, pedestrians, bicyclists, truck drivers – all of us need to be using extra caution as we navigate our battered neighborhoods.
We all know it's not wise to be driving during a big storm if it's avoidable. But in the wake of a major hurricane, there are many Florida roadway hazards that persist in the days, weeks, and even months following. There's flooding, of course, though that has thankfully receded for the most part. But it's given way to new dangers. We're now seeing the traffic in coastal cities like Fort Myers, Naples, and Cape Coral becoming badly gridlocked. There are also issues with non-functioning traffic signals, damaged/washed out roadways, roadway debris, more pedestrians/bicyclists than usual, and people attempting to drive vehicles that have been damaged by flood waters.
Here, we'll outline some of the top road concerns – and how to stay safe on our streets as we work toward recovery and rebuilding.
Flooded Roads
This is mostly a concern in the hours and days immediately after a storm. However, if there is any standing water, never ever try to drive through it. While Floridians are no stranger to storms, standing water after a hurricane is more than a mere puddle. Even if it doesn't look that deep, standing water might be concealing potholes, debris, and road damage underneath that isn't obvious.
Anything that looks to be 6 inches or deeper – turn around. You may not be able to tell exactly how deep it is until it's too late. This is especially important at night, as it may be more difficult to recognize flood danger – particularly if the electricity grid is still compromised. As little as 12 inches of water can move a small car. Two feet of moving water can dislodge and carry most vehicles – including trucks and SUVs – according to the National Weather Service. But even if the water isn't that deep, just a few inches can easily cause a driver to lose control or get stuck. On top of that, if there's flooding near downed wires, there's a possible electrocution risk.
Water-Damaged Vehicles
Those whose cars washed away in the raging floods during Hurricane Ian aren't attempting to drive those cars. But it's important to note that even if the water never reached your bumper, it could still have gotten into the engine and compromised its ability to run safely. If you try to start a car that was flooded or had water damage, you risk not only ruining the car but putting your safety at risk. Water damage to brakes can result in decreased braking power, warping, and failure. (This can happen just driving through a typical Florida rainstorm during rainy season.)
Debris, Road Damage, and Other Florida Roadway Hazards
Hurricane Ian wreaked utter havoc on our region – and roadways were not spared. Bridges, highways, traffic lights, traffic signs – many suffered substantial damage. Some will have to be rebuilt or replaced entirely. In 150+ mile winds, all types of debris winds up everywhere. It's critical that drivers consider this. Pay attention. Take it slow. Never drive under fallen trees or other material arching over the road. It may look relatively safe, but whatever is holding those huge branches or debris in place may not be as sturdy as it seems. Better to turn around and go the other way than risk it. Don't take your chances with Florida roadway hazards after a hurricane. It is always better to be safe than sorry.
Roadway Congestion and More Pedestrians & Bicyclists
As the winds died down and the flood waters receded, a cavalry of non-profits, contractors, linemen, and insurance adjusters descended on the region. As much as we appreciate this help, it's contributing to some horrendous gridlocked traffic throughout the region.
Our best advice: Keep your speed low and your courtesy level high.
We're all trying to work our way back to a degree of normalcy. It's going to take some time. Nearly every one of us is feeling some amount of stress, anxiety, and even depression. We may not be sleeping or eating well, some of us may have lost our jobs, our homes, our precious keepsakes – and even loved ones. One of the kindest things we can do as a community is to be courteous on our roads and take it slow. Give yourself extra time to get to your destination. Pack food, water, medicine, and other emergency items you might need in case the trip takes longer than you anticipate. Watch for more vulnerable road users like bicyclists and pedestrians – especially as there are likely to be even more of them since so many vehicles were destroyed.
If you are injured or have suffered storm damage in Fort Myers, Port Charlotte, Sanibel, Fort Myers Beach, Cape Coral, Naples, or Key West, contact Garvin Injury Law at 800.977.7017 for a free consultation.
Additional Resources:
Safety first: Driving after a hurricane, Aug. 30, 2011, Consumer Reports
More Blog Entries:
Fort Myers Injury Lawyer Tips for Talking to Insurance Adjusters, Sept. 21, 2022, Fort Myers Injury Lawyer Blog