Speeding Driver Liability in South Florida Car Accident Lawsuits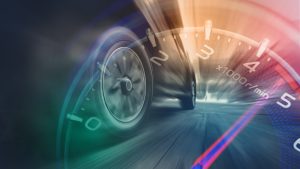 The National Highway Traffic Safety Administration recently tweeted that speeding-related car accident deaths are up all over the country – in some areas, as much as 15 percent. As the agency pointed out, the higher the speed, the worse the crash-related injuries. What is also relevant for those weighing South Florida car accident lawsuits is that high speed can factor significantly in crash liability.
According to the Insurance Institute for Highway Safety, speed is one of the most common – and dangerous driver behaviors – with an estimated 1/3 of all deadly crashes involving at least one speeding driver. Part of what makes speeding such a threat is that so many drivers consider it innocuous and make excuses for it. ("I was running late," "everyone else on the road is going 70+mph," "I'd be in more danger going slow than fast on Florida highways," etc.). In reality, speeding has dangerous consequences, among them being:
Reduced ability to maneuver around roadway obstructions or negotiate curves.
Longer time/distance needed to stop safely.
The distance a vehicle travels while speeding driver reacts to a hazard is increased, meaning there is greater potential for more injuries/people affected.
Increased risk for both crashes and injuries because neither drivers nor pedestrians can quickly and accurately assess a speeding vehicle's distance.
Car accidents killed more than 36,000 people nationally in 2019. As one analysis by ProPublica revealed, the risk of serious injury and death increases rapidly with each mile-per-hour increase. A person is 70 percent more likely to be killed if they are struck by a car traveling 30 mph compared to one traveling 25 mph.
Naples injury lawyers can explain, there is little question that excessive speed can be the basis of liability in South Florida car accident lawsuits. How big of a role it plays will depend on the underlying facts of the case.
What is Speeding?
Although defining speeding seems simple, there is more to it than just driving more than the posted speed limit. Driving too fast for the road conditions can also be considered "speeding" – even if you are going below the speed limit.
South Florida often experiences quickly changing weather conditions, and drivers need to be constantly on alert and adjust their speed accordingly. A driver might safely travel 65 mph on a clear, sunny day, but that same pace could be deadly in a sudden downpour.
Weather is one type of ever-changing road condition. Others include congested traffic, poorly maintained roads, roadway debris, and nearby pedestrians, bicyclists, or animals.
F.S. 316.183 states no one is allowed to drive a vehicle on a roadway at a speed greater than what is reasonable and prudent under the conditions and with regard to the actual and potential hazards. Speed "shall be controlled as may be necessary to avoid colliding with any person, vehicle or other conveyance or object on or entering the highway in compliance with legal requirements and the duty of all persons to use due care."
Liability in South Florida car accident lawsuits is predicated on proof of negligence, which is the absence of due care resulting in harm to another. Speeding drivers can face fines and incur points on their driver's license, but they can also be deemed at-fault if their actions result in bodily harm to another.
South Florida Car Accident Lawsuits Hold Speeders Accountable
Not all car accident injuries or even fatalities require litigation to resolve. Let us start first with the fact that Florida is a no-fault state when it comes to car insurance. That means that if your injuries are relatively minor, you may be adequately compensated by your own personal injury protection (PIP) insurance coverage. PIP offers up to $10,000 in medical and wage loss coverage and does not require proof of fault.
However, if you meet the severe injury threshold, you can step outside the no-fault system and pursue a claim with the other driver's insurer. This requires evidence that the other driver was negligent. Speeding is not only against the law, but also considered a breach of one's duty of care to others on the road and thus is evidence of negligence. That does not mean if the other driver was speeding, you will automatically win your case. You still need to show the breach caused the crash and that your injuries resulted from that. You may also need to defend against accusations that you contributed to the crash or your injuries. (Contributory negligence would not prohibit you from prevailing, but it may lower your compensation amount.)
Often, our Naples car accident lawyers can negotiate a fair insurance settlement without needing to file a lawsuit at all. It is only when the insurers refuse to settle a case for a reasonable sum that we initiate litigation.
If you are injured in a South Florida crash with a speeding driver, our dedicated injury lawyers can help walk you through the process.
Contact our South Florida injury attorneys at Garvin Injury Law – Naples, Fort Myers and Key West – at 800.977.7017 for a free initial consultation.
Additional Resources:
Speeding, April 2020, NHTSA Traffic Safety Facts
More Blog Entries:
Can I Sue the Rental Company for Florida Car Accident Injuries? Dec. 16, 2020, Naples Car Accident Lawyer Blog