Do I Have to Wear a Motorcycle Helmet? Florida Cycle Injury Lawyer Insight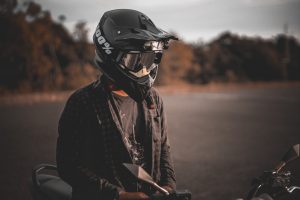 Motorcycles are prevalent in the Sunshine State. More than 550,000 motorcycles are registered here, and biker tourism is a big draw. As a longtime South Florida injury lawyer, I am familiar with Florida's motorcycle helmet law and have successfully handled my fair share of motorcycle accident claims in Fort Myers, Naples, and Key West. The National Highway Traffic Safety Administration (NHTSA) reports more motorcyclists and passengers are injured and killed here annually than in any other state.
In motorcycle injury and wrongful death cases, the question "Do I have to wear a Motorcycle helmet in Florida?" often arises; whether riders have the right to forgo helmets and whether that decision impacts their injury claim is often the next question. The answers depend on how old you are, what kind of insurance you have, and whether you suffered head/neck/facial injuries.
Florida's Motorcycle Helmet Law
Florida has a motorcycle helmet law, but it is not universal as it was before 2000. F.S. 316.211(3)(b) mandates helmets for operators/riders under 21 and those who do not have an insurance policy that offers a minimum of $10,000 in medical benefits for injuries caused while operating/riding. If you are over the age of 21 and have the proper amount of insurance, you are not required by law to wear a helmet. On the other hand, all motorcyclists are required to wear some type of protective eyewear in Florida.
Our team at Garvin Injury Law respects the right of insured, adult operators to choose whether to wear a helmet, and we will fight for your right to collect damages from at-fault drivers regardless.
The choice not to wear a helmet will not prohibit you from filing a personal injury claim in Florida. In some instances, though, it could impact the amount of compensation to which you may be awarded. Because motorcycle accidents often result in substantial injuries to the operator/passenger, it is imperative to hire an experienced Florida injury lawyer to advocate on your behalf.
Unique Insurance Laws for Motorcyclists
Florida is a no-fault state for car insurance. What that means is if you register a vehicle in this state, you must secure personal injury protection (PIP) insurance.  This offers up to $10,000 in compensation to cover things like medical bills and lost wages if you need to take time off work. It is only in cases where one's injuries meet the serious injury threshold, as outlined in F.S. 627.737, that one can go outside of the no-fault system and seek damages from the at-fault parties and their insurers.
Insurance coverage for motorcyclists is different. The standard no-fault law is not applicable to them, and motorcycle owners can register their vehicle without proof of insurance. Operators do have the option to buy insurance coverage for medical payments, similar to what PIP offers. Still, just like PIP, it is rarely enough to cover the damages in most crashes. That means injured motorcyclists often must pursue compensation from the at-fault parties. One exception to this is could be that if the injured motorcyclist has purchased stacking uninsured motorist coverage on other motor vehicles in the household.
Florida Injury Lawyer on the "Helmet Defense"
Florida uses a system known as pure comparative fault to weigh legal responsibility when it comes to any type of crash case. That means that you will not be prohibited from pursuing a claim even if you are partially at-fault. However, the amount of money you receive could be less, proportionate to your degree of fault.
If you were not wearing a helmet at the time of the motorcycle accident, the defense might try a tactic called "the helmet defense" to reduce your damages. In essence, the helmet defense asserts that even if the other driver caused the crash in which you are hurt, you could be found to be partially negligent for the degree to which your injuries were made worse by choosing not to wear a helmet.
In some motorcycle accident cases, a helmet may be a non-factor. For example, let us say another driver runs a red light, crashes into you, and you suffer a broken leg and some cracked ribs. You have no head injury. Under those circumstances, your decision not to wear a motorcycle helmet would be irrelevant to your injury claim.
Alternatively, suppose that same collision knocks you off your bike, and your head strikes the pavement, causing a traumatic brain injury. In that case, the defense may argue the head injury could have been prevented or significantly reduced in severity if you had worn a helmet. This claim of comparative fault would likely need to be supported by expert witness testimony – and refuted with the same from you and your attorney's side.
If a claim of comparative fault using the helmet defense is successful, your damages could be significantly reduced. Let us say in the example above that the red-light runner is found negligent and liable for 80 percent of your damages, while you were 20 percent at-fault. In a $100,000 case, you would only receive $80,000.
This is one of those situations where having an experienced Fort Myers motorcycle accident lawyer on your side is so important. We understand the tactics insurers and defense attorneys use – and how to challenge them effectively.
If you are injured in a Fort Myers, Naples, or Key West motorcycle accident, contact our injury attorneys at Garvin Injury Law at 800.977.7017 for a free initial consultation.
Additional Resources:
F.S. 316.211(3)(b) , Florida Motorcycle Helmet Law Statute
More Blog Entries:
Pain and Suffering Damages Awarded in Fort Myers Injury Lawsuit, July 21, 2020, Fort Myers Motorcycle Accident Lawyer Blog