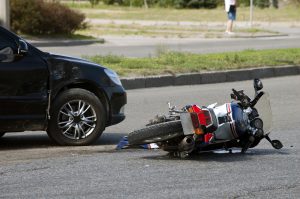 Nobody sets out for a ride anticipating a Florida motorcycle accident. But when it happens, it's important to proceed cautiously to protect your legal rights.
Pursuing a claim for motorcycle injuries is slightly different than doing so in other types of crashes. That's partly because injuries are likely to be more serious than the average crash. It's also because motorcyclists in Florida are not required to purchase PIP (personal injury protection) coverage, the foundation of the state's no-fault accident system. To ensure fair financial recovery, it's important to talk to an injury attorney experienced in motorcycle injury cases.
By their very nature, motorcycles are less stable, less visible and less crash-worthy than passenger cars – despite their high-performance capabilities. When motorcyclists crash, they lack the protection of an enclosed vehicle, so they're far more likely to be seriously injured or killed. Per vehicle miles traveled, motorcycle deaths are 27 times higher than car deaths.
No PIP in a Florida Motorcycle Accident Case
To receive compensation for a Florida motorcycle accident injury, it will be necessary for your Fort Myers motorcycle injury lawyer to help you determine who was at-fault. "Fault" is established by proving the operator/driver in question failed to use reasonable care when they had a duty to do so, in turn causing your injuries. Continue reading