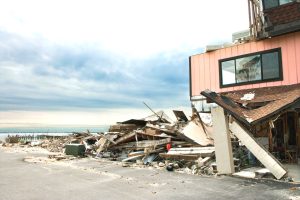 Southwest Florida is still reeling from the unprecedented devastation of Hurricane Ian, a huge storm with near-Category 5 winds and storm surges that reached 12-18 feet in some areas of Lee County.
At Garvin Injury Law, we are lifelong Floridians and while we have lived through many previous storms this one was particularly tough. Along with the rest of the community, our hearts are broken at the loss of life and the sheer scope of damage and displacement. As we all grieve what's been lost, begin to clear the rubble, and prepare for our next steps, we want to make sure folks are aware that there are still a number of ongoing roadway hazards after a hurricane. Motorists, pedestrians, bicyclists, truck drivers – all of us need to be using extra caution as we navigate our battered neighborhoods.
We all know it's not wise to be driving during a big storm if it's avoidable. But in the wake of a major hurricane, there are many Florida roadway hazards that persist in the days, weeks, and even months following. There's flooding, of course, though that has thankfully receded for the most part. But it's given way to new dangers. We're now seeing the traffic in coastal cities like Fort Myers, Naples, and Cape Coral becoming badly gridlocked. There are also issues with non-functioning traffic signals, damaged/washed out roadways, roadway debris, more pedestrians/bicyclists than usual, and people attempting to drive vehicles that have been damaged by flood waters.
Here, we'll outline some of the top road concerns – and how to stay safe on our streets as we work toward recovery and rebuilding. Continue reading