Florida Bicycle Accident Risk Doesn't Spare Children
It was the young family's ritual every weeknight evening to go for a bicycle ride after dinner, strapping their baby girl in an approved safety seat before riding through their Central Florida neighborhood sidewalks. It helped lull the 18-month-old to sleep and gave mom and dad the chance to connect and stay active. But the last time they headed out for a ride three months ago would be the last time they would all be together.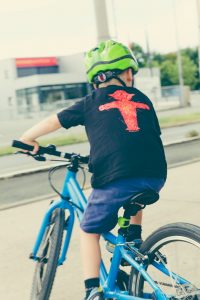 A horrific Florida bicycle accident, allegedly caused by an uninsured, impaired driver who jumped the curb, resulted in the girl's death. Her father remains in a coma with severe brain trauma. The girl's mother suffered a broken back and leg and struggles to walk.
Florida is among the most dangerous places in the U.S. to ride a bicycle – and our Cape Coral bicycle accident attorneys know it's been that way for years. Most roadways were built with maximum speed and motor vehicle traffic in mind. Few are equipped with bicycle lanes. Drivers are distracted (increasingly by smartphones), impaired or fatigued, and we have a densely-packed population. And bicyclists are among the most vulnerable road users. When they collide with cars – no matter who was at fault – it's the person on a bicycle who is always injured worst.
Recovering Damages After a Florida Bicycle Accident
In this case, local news outlets reported the driver, who was later arrested on felony charges related to the crash and did not have insurance.
Bicyclists aren't required to carry insurance, though they can file a claim with either the driver's personal injury protection (PIP) plan (as outlined in F.S. 627.746) or even through their own. If the at-fault driver in a Florida bicycle accident lacks insurance, those injured or survivors of those killed may consider filing a claim for uninsured motorist coverage through their own carrier.
Obviously nothing in the world – no amount of money – is going to make this family whole again. Filing a UM claim, however, is often a matter of financial necessity. Here, news outlets report the mother is unable to work at the moment, the father's medical costs are mounting and the road ahead will be extremely difficult financially.
We purchase insurance for a reason, and in a case like this, a bicycle accident lawyer can help those injured be certain they are receiving everything to which they are entitled.
Children's Bicycle Accident Risk
Nationally, the U.S. Centers for Disease Control and Prevention reports more than 1,000 bicyclists were killed and nearly 470,000 injured in a single recent year. Non-fatal bicycle accidents collectively result in some $10 billion annually just in productivity losses in the U.S. alone. That includes situations wherein parents are forced to take extended leave or quit their jobs because a child has become seriously injured in a bicycle accident.
Here in Cape Coral, children are at especially high risk for bike crashes. There are few sidewalks, zooming traffic and inadequate street lighting, especially in the North Cape.
In 2016, a 12-year-old boy was killed in a Cape Coral bicycle accident after he was struck by a car on Tropicana Parkway. In 2018, a 13-year-old boy was left in critical condition with severe injuries after he was struck by a pickup truck while riding his bicycle on Hancock Bridge Parkway on the way to school.
Other recent incidents have involved younger children, like the one in Central Florida, who were being towed in a device behind a parent's bicycle.
It should be noted that while Florida law requires those under 16 to wear a helmet when bicycling, F.S. 316.2065, which details bicycling rights and responsibilities, also expressly prohibits defendants in bike crash cases from using a plaintiff's failure to wear a helmet as evidence of contributory negligence, which might otherwise reduce one's damages.
If you are injured in Fort Myers, contact our injury attorneys at the Garvin Law Firm at 800.977.7017 for your free initial consultation.
Additional Resources:
All cycled UP, Aug. 15, 2019, By Roger Williams, Florida Weekly