Can I Sue the Rental Company for Florida Car Accident Injuries?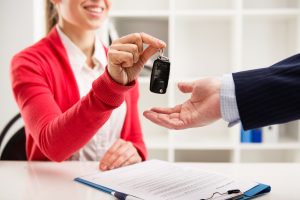 When it comes to liability for Florida car accident injuries, well-established case law and the dangerous instrumentality doctrine allow vehicle owners to be held liable for injuries caused by the negligence of authorized drivers – even if the owner was not driving or otherwise negligent. However, there are exceptions for rental car companies under the federal Graves Amendment. Still, it may be possible to sue a rental car company for Florida car accident injuries under certain circumstances if the company is negligent.
A recent example is playing out in Florida courts, as reported by The Tampa Bay Times. While the possibility of recovery in this far-fetched case is incredibly unlikely, it will work to illustrate the point. This case started in 2013 when a man rented a vehicle from Enterprise. According to the affidavit, written from a corrections center where he is serving hard time for vehicular homicide, plaintiff stated he was in no shape to drive when he entered the rental center to rent a vehicle.
He reportedly could not get a rental in his own name because his driver's license had expired. Plus, there was a warrant for his arrest. When he entered the rental facility, he said he was so intoxicated he could hardly walk. Because he did not have his own valid driver's license, he presented that of his younger brother. He alleges that a management trainee at the facility either knew or should have known that his drunk state alone rendered him unsafe to drive. The fact that he was handed the keys anyway, he alleges, amounted to negligence.
Several hours later, he was reportedly driving the rented sport utility vehicle on I-95 shortly before midnight. Traveling 100 mph, he swerved to avoid another car when trying to pass, veered off the road, and struck a tree. His 25-year-old sister, in the front passenger seat, was killed. His mother, seated in the rear, suffered severe and lifelong injuries.
Florida Highway Patrol records indicate his blood-alcohol level after the crash registered below the legal limit. He was later convicted on numerous felony charges related to the fatal crash. Plaintiff alleges that while he has no clear memory of his own about renting the vehicle (his brother-in-law later told him, he said), the rental agency and the employee were negligent in renting the vehicle to him.
Setting aside the fact that it can be difficult for drunk drivers to recover damages for the injuries they cause, this is otherwise a seemingly strong case against the rental car company despite the Graves Amendment. That is because it does not allege vicarious liability under the doctrine of dangerous instrumentality but rather under the legal theory of negligent entrustment.
The dangerous instrumentality doctrine, solidified in the 1920 Florida Supreme Court case of Southern Cotton Oil v. Anderson, classifies motor vehicles as inherently dangerous tools. If an owner lends their vehicle to someone else, they can be found vicariously liable for the negligence of that other driver behind the wheel. The Graves Amendment, part of a federal highway bill passed in 2005, prohibits vicarious liability claims against rental car companies for injuries caused by their customers – unless it can show the company's negligence contributed to those injuries. Renting a vehicle to an obviously intoxicated customer with no license could certainly be deemed negligent if those facts were proven.
A Naples injury lawyer handling a Florida car accident injuries case like this might also look at the technology the rental car service had available (and what the industry standard is) for checking driving records, etc. In some cases, rental car companies can also be deemed liable if they fail to maintain their fleet reasonably.
Dozens of rental car companies operate in Florida, with its large population and booming tourism industry. While offering them some insulation from legal liability, the Graves Amendment does not exempt them from acting with reasonable care while doing business. The bottom line is regardless of whether this claim is successful, there are cases in which rental car companies can be liable for Florida car accident injuries. It is important to discuss your situation's unique circumstances with an experienced civil trial lawyer to learn how best to proceed.
If you are injured in Fort Myers, Naples or Key West, contact our injury attorneys at Garvin Injury Law at 800.977.7017 for a free initial consultation.
Additional Resources:
Driver in fatal wreck sues Enterprise, says he was drunk when he rented the car in Tampa, Nov. 14, 2020, By Sue Carlton, The Tampa Bay Times
More Blog Entries:
Do I Have to Wear a Motorcycle Helmet? Florida Cycle Injury Lawyer Insight, Dec. 3, 2020, Florida Car Accident Injuries Lawyer Blog